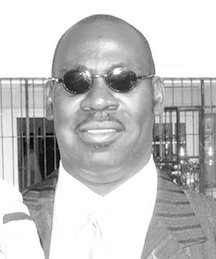 Dwayne "Kamula" Cordett Edgecombe
unknown - unknown
Funeral Service for Dwayne Cordett Edgecombe age 45 affectionately called "Kamula" of Cooper's Town Abaco, who died at his residence December 15th, will be held on Saturday 10:00 a.m. at Faith Walk Church of God Cooper's Town Abaco. Rev Ronald McIntosh, Pastor Jenson Edgecombe, Bishop Archilaus Cooper and Rev. Herbert Edgecombe Jr. will officiate and interment will follow in South Side Gardens Cooper's Town Abaco.
Left to treasure and cherish his memories are his:
Parents: Demetrius I & Cleotha Edgecombe
Brothers & Sisters and their Spouse and Children:
Silven & Sarah Edgecombe
Rondinearo & Danielle
Sierro
Silven Jr.
Stephanio
Patty Johnson
Nikia
Leslie & Kathy Edgecombe
Leslie Jr.
Gersil& Maria Edgecombe
Nacia
D'Angelo
Ronecce
Keva
DeAndre &DeBron
Dwight &Lynn Edgecombe
Averill
Chrishanti
Rashad
Avaard
Logan
Michelle Edgecombe
Jason
Jordan
Margilee Bodie
Vastia
Prince Jr.
Prinice
Charlese Cooper
Prinaj
Don & Yolando Edgecombe
Aliah
Ashleyn
Dawneisha
Kassandra
Vaughn
Monique Edgecombe
Demetrius Jr. & Tameka Edgecombe
Aneisha & James
Nerissa & Pernell
Demetrius III & Dominica
Niketo
Kaylisha & Kevin
Shanae
Elchino
Jayden
Britney
Charlsea
Gervasio & James Jr.
Aledra , Demetria , Demetrius Jr.IV & Alyssa
Quincy Edgecombe
Jasmine
Quincy Jr.
Renae Bonaby
Anton
Jalissa
Nathan
Jenson & Rosenell Edgecombe
Javano
Jenice
Jaquille
Jenico & Janai
Primo & Carmen Edgecombe
Ayanna
Ayden
Uta Rolle
Kissie
Kino
Orlando
Alvino
Aunts & Uncles: Bishop Archilaus & Estelle Cooper, Elder Hartman & Macy Cooper, Eric & Vivian Cooper, Henry& Lillian Cooper, Elder Samuel & Netta Cooper, Dr. Allan & Movena Mills, Charles & Letta Mae Jones, Victor & Eliza McIntosh, Neville & Sheila Adderley, Rudy & Vernie Smith , Thelma Edgecombe.
Cousins: James, Elva, Sybil, Viola, Lowell & Lorraine, Merlene, Rev.Herbert Jr.& Millicent, Bob & Julie, Garnet & Marilyn, Denna & Kenneth, Johnly & Rosie, Gretchen & Drexel, Cynthia, Jocelyn, Pearl, Viola, Lillian, Cleomi, Genevieve, Lydia, Michelle, Monique, Judy, Kadie, Nikola, Rosenell, Elvis, Freddie Jr., Romain, Garvin, Nakera, Pastor Ronald & Ruthellen, Judy & Alexander II, Dwight, Laura, Kim, Garret, Randre, Clarke, Carolyn, Corraine, Nesie, Aniska, Lionel & Hortence, Ivan , Jurona Burrows, Gary & Lynette, Billy & Melvern, Cephas& Lervern , Trinetta, Agnes, Judy, Stevenson, Archilaus II & Latoya, Carolyn, Gwendolyn, Wendall & Carlton Cooper. Silbert & Janeen, Hartman Jr & Angelina, Lavan & Eugene, Junnie, Israel, Jared, Dempsey, Macy, Genevieve, Jackie, Eric Jr. & Michelle, Flawood & Patrice, Craig, Sherry, Joan, Tammy, Leroy, Becky, Kimberley, Teekah, Dorothy& Henderson, Brendalee, Henderson, Spencer, Neville Jr., Lashan, Toya, Derrick, Bertram & Debbie , Travolta Cooper, Kara & Carlton Bowleg.
Godparents: Trinetta Frazer
God Children: Micheal McIntosh Jr., Aaron Curry, Ranzel, Latasha & Ramon Pritchard, Cheyenne & Terricka Bullard, Miguel Sawyer, Dominca & Romando Edgecombe, Samuel Cooper, Taylor Nesbitt & Trinity.
Special Friends: Gary & Ashley Smith, Willamae Edgecombe, Rebecca, Gale & Maureen McIntosh, Elliott & Darlene Sawyer, Beltram &Ingrid , Lester, Una & Zitty Curry, Melba, Portia , Wendall and Ebony Rolle, Sheila Lightbourne, Cliff , Kevin & Leticia McIntosh, Ambrose & Pastor Cedric Bullard, James & Keisha Pritchard, Chris & Paulette Nesbitt, Lathera Kemp, Joycelyn & Delores McIntosh, Judymae & Sonia Russell, Debbie Symonette, Henza, Priscilla, Sarah & Cleveland Dawkins, Greta McKenzie, Pastor Roberts, Eulene Sands, Coretta & Jollian McIntosh, Cocann Sawyer, Stephanie Heild, Fran Rahming, Lawanda Boodle, Cathy Grant, Bobymae Lewis, Dale McIntosh, Ordell Cox, Rosette Murray , Delrosa Russell, Marvin Pritchard, Elvis Wright, Nigel Bootle, Gentry Lowe, Sharon, Georgie & Silver Airline Staff.
Relatives & Friends: Rt, Hon. Hubert Ingraham & family, Edward Rolle & family, Alexander Rolle & family, George Rolle & family, Ronald Rolle & family, Vivian Cornish & family, Louise & Joseph Wright & family, Leonard Sawyer & family, Joseph Sawyer & family, Boynell Williams& family, Rosemary Newbold & family, Edith Morgan & family, Elmore Sawyer & family, Felix Sawyer & family, Albert, Everette & Eleanor, Welbourn & Jackie Bootle & family, Livingston Huyler & family, Melvern Cornish & family, Donna Hudson &family, Kingsley, Ronald, Ken, Gordon & Kirk Murray, Beryl, Sharon, Janice, Mikelene, Fletcher & Celeste McIntosh, Frankie Evans & Family, Ereil Lewis, Leanna Thompson& family, Lillian, Pearl, Stella, Brenda & Charles Lewis & family, Candymae Rolle, Shirley Lowe, Livingston & Daswell Rolle, Delias Russell, Ettamae , Austin & family, Paula Hall & family, Max Russell, Florence, Evelyn, Raymond, Pete, Errily, Hasting Jr., Marshal, Glenroy, Ivan & Brian Russell, Donna, Netherine, Lisa, Ann & Adean, Joseph Russell, Lafunia Jordan, Mapron &Joseph Russell, Rev. Leslie Cormish & family, Ejnar Cornish & family, Estelle McKenzie & family, Gifford Bootle, Joy Duncombe & family, Junior Cooper & family, Anthony Cooper & family, Odonell McIntosh & Family,Ruth Gardiner & family, Rev. Ed Laroda & Family, Dawnette, Lashan, Cindy, Mercilea, Pam, Hilly, Tony & Troy Lowe, Rebecka McKenzie, James Bullard, Archie McDonald, Kenneth Major, Floyd & Silvia Poiter & family, Alfonso & Shirley Wright, Magnola Wright, John Cooper, Shaneka Poiter, Orthnel Russell, Rose & Earnest Williams, Alfred Murray, Noel Bootle, Michael McIntosh, Inita McIntosh, Leotha Bonaby, Dominic Pratt, Gaylene & Carol Laing, Terry Rolle, Emily & Glen Culmer, Liza, Terry & Elliot Cooper, the McIntosh, Rolle, Pritchard, Wright, Lowe, Sands, Russell, Murray, Dr. Consulta & the Staff of Cooper's Town Community Clinic, Princess Margaret Hospital & St. Luke's Medical Centre.
Relatives and friends may pay their last respects at THE CHAPEL OF MEMORIES COMMONWEALTH FUNERAL HOME INDEPENDENCE DRIVE on Thursday 4:00-6:00 p.m. and at the church In Coopers Town on Friday from 6:30 p.m. to service time on Saturday.