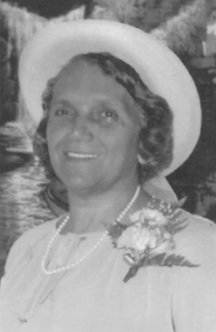 Evelyn Theresa Burrows
unknown - unknown
Funeral Service for the Late Evelyn Theresa Burrows, age 91 years of Mackey Street, will be held on Saturday December 28th, 2013, 11:00 a.m. at St. Cecilia's Catholic Church, 4th Street, The Grove. Msgr. Simeon Roberts assisted by Msgr. Alfred Culmer, Fr. David Cooper, Fr. Kendrick Forbes, Fr. Glen Nixon, Deacon Andrew Burrows and Deacon Samuel Mitchell will officiate. Interment will follow in the Catholic Cemetery, Infant View Road.
Family of Evelyn Burrows
Children:
Peter (Deceased) Wife: Lorraine
Children : Peter Jr. (Deceased), Latrisha Johnson, Linda Lightbourne, Loretta,
Peatra, Paulette and Lamanda Burrows
John (Deceased) Wife: Cyprianna
Children: Francois, John Jr. Burrows and Angelique McQueen
James ( Deceased) Wife: Mary
Children: Randy and Kimberly Burrows
Gaynell Funes Daughter: Crystal Pintard
Mary Gay Children: Michael, Christopher and Lakeisha Gay
Andrew Wife: Patrice
Children: Andrea, Garfield, Andrew Jr., Gerard and Sidney Burrows
Stephen Wife: Cheryl
Children: Rochelle, Racquel, Natasha, Rashaad, Steven Jr.
and Cherese (Deceased)
Mark ( Deceased) Children: Stephen Jr. and Sara Burrows
Christopher Wife: Anita
Children: Kristan, Ana – Alicia and Karese Burrows
Patricia Strachan Husband: Harold
Children: Frances Linton, Harold Jr. and Jehu Strachan
Bernadette Metholall Husband: Rohan
Children: Sarika Rolle, Turiea Deveaux and Gabriel Metholall
Regina Mohabir Children: Vijay, Alexander and Rolan Mohabir
Edward Wife: Anastacia
Children: Lenice, Edward Jr. and Evardo Burrows
Martin Wife: Lisa
Children: Martin Jr. Chad and Diva Burrows
Charisma Humes
Catherine Persaud Husband: Daniel
Children: Olivia, Julia, Daniel and Denzel
Adopted Sons Monsignor Simeon Roberts, Fr. David Cooper, Monsignor Alfred Culmer
Fr. Glen Nixon, Fr. Kendrick Forbes and Deacon Samuel Mitchell
Sister Dorothy Chea
Sisters-in-law Mavis Farrington, Maxine Burrows, Betty Dean, Lula Burrows and
Marion Rolle
Nieces Carol Weatherford, Rose Evernett, Margaret Outten, Maria Rolle,
Judy McPhee, Josephine Gay, Ann Russell, Deborah Chea, Joan Mackey
Marion McPhee, Pasty Burrows, Marie Barton, Vern & Ann Thompson
Theresa , Cheryl Gibson
Nephews Kendal, Frankie & Kevin Farrington, Rodney Thompson, Tony Fountain
Michael & Bobby Stewart, Barry & Ramont Farrington, Peter Chea, Georgie
Larry & Wayne Burrows, Patrick & Edwin Thompson, Freddie Munnings
Larry & Terry Farrington and Anthony Gibson
Special Thanks Dr. Dellareece Woods for all the times we called and the care given to our mother
Caretakers Rita Albury, Dorothy Robinson and Gloria Skinner
Numerous great-grands, grand nieces, grand nephews, granddaughters and grandsons-in-law too numerous to mention – Special thanks to all the Doctors, Nurses and staff of Female Surgical Ward #1.
Friends may pay their last respects at Bethel Brothers Morticians, #34 Nassau Street on Friday from 10:00 a.m. to 6:00 p.m. and on Saturday at the church from 10:00 a.m. until service time.