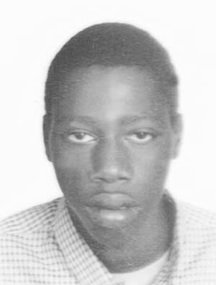 Thorn "Do,Do,Do Cuttie" Anthony Thompson
unknown - unknown
FUNERAL SERVICE for Thorn "Do,Do,Do", "Cuttie" Anthony Thompson, Age 17 years, of Pinedale will be held on Friday, December 27, 2013 at 11:00am.

Church: The New Goodwill Church of God
Address: Peardale
Officiating: Reverend Denzle Hutchinson
Assisted by: Minister John Johnson and Minister Ruddy Charlton
Interment: Southern Cemetery, Cowpen & Spikenard Roads
He was preceded in death by his father: Vincent Anthony Thompson
Left to cherish his memories are his mother: Brenhilda Thompson; stepfather: Kenny Hall; sisters: Elvonia Jones and Alexia Pinder; brothers: Vincent Anthony Jr. and Jeremy Jamaal Thompson; grandmother: Vernell Rolle; stepsisters: Eleasha, Teasha and Georgette Jones, Kelisa and Kenderia Hall; stepbrothers: Elwood Jr. and Eddy Jones, Kenny Hall Jr., Rashad Gibson, Craig Jr., Jamal "Blackest", and "Blackboy"; aunts: Vanrei Rolle, Lorine Smith, Stephanie Cartwright, Anya Gibson, Carlette Rolle, Quincy Smith, Glenda and Beverly Gibson, Scieska Jones, Sophie Moore of Freeport, Grand Bahama and Francina Sears; uncles: Wendel Smith, Leroy Sands, Samuel Simmons, Tommy, R.M. and Hartman Sands, Garvey Cartwright, Gregory Gibson, Elwood Jones, Vandyke Lightbourn, Lacavin and Wendell Jones; nephew: Thevon Mackey; sons-in-law: Theodore Mackey, Randy and Dule; grandaunts: Verline Clark, Elaine, Eddymae, Beverly and Edith Thompson, Margert Murphy, Barbara Thornhill of Freeport, Grand Bahama, Dorine, Pat, Gloria, Stephanie, Caletta Rolle and Quise Smith; granduncles: Basil, George, William, Herbert, Ermin, Franklin and Clinton Thompson; cousins: Bertha and Margaret Simmons, Crystal, Christopher, Kenya, Tasha, Ramon, Leon, Marco, Brian, Shannon, Javon, Omar, Angel, McKenzie, Justin, Papa, Asparia, Candy, Wendy, Michael, Wendle, Toya, Craig, Lexia, Ianna, Kasia, Idean, Crishon, Destini, L.J., DeAngelo, Detarrio, Deshawn Culmer, Monique, Tanya, Kenny, Jete Johnson, Bridgette, Ferranda, Eva and Lakeva Thompson, Keisha Deveaux, Gina, Sherreka Pennerman, Bridjeann Cornish, Bya, Rochelle, Jeanie, Sherry, Renee Gray, DeDe, Ryan and Brian; godparents: Shefel and Lynden Knowles; and a host of other relatives and friends including: Eleasha Jones and family, the Mackey Boys, the Ferguson family, Veronique and Judi Nottage, Mo-Mo, Vanessa and Shervin Brennen, Tiffany, Micara Dames and family, Miss Major and family, the Straw Market family and friends, the Staff of Atlantis, Wayde Ingraham and family, Maria Bowe, the Scriven family, Kenny Hall and family, Lorine and family, Pam and family, Fitzgerald and family, Keith and family, the Scott family, Union Village and Peardale family and friends, Ida Street family and friends, Wilson Track friends, Nassau Village family, Bowe's Plumbing family, Lead Street family, Ross Corner family, Lily of the Valley Corner family, Thompson Lane, Bain Town family, John Road family, the Staff of Simpson Penn, the Staff at Sandilands Rehabilitation Center and other relatives and friends too numerous to mention.
FRIENDS MAY PAY THEIR RESPECTS AT KEMUEL COX NORTHSIDE FUNERAL & CREMATION CENTER ON THURSDAY FROM 1:00 P.M. TO 5:00 P.M. AND AT THE CHURCH ON FRIDAY FROM 10:00 A.M. UNTIL SERVICE TIME.