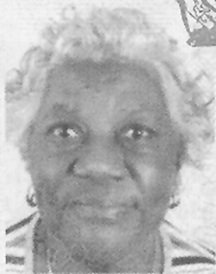 Juanita King
unknown - unknown
Funeral service for Sister Juanita King, 77, a resident of Golden Gates #1 & formerly of Old Bight, Cat Island, will be held at Transfiguration Baptist Church, Market & Vesey Streets, on Friday at 10:00 a.m. Officiating will be Rev. Dr. Stephen E. Thompson, assisted by Bishop Oral Ray rolle, Rev. Brazil McDonald, Rev. Basil Johnon & Rev. Sherma Bowe. Interment follows in Woodlawn Gardens, Soldier Road.
Left to cherish her memories are her Five sisters namely: Monet Newbold, Marion Belle, Maria Strachan, Cynthia Knowles and Cyria Pratt, four brothers namely Maxwell, Eucal, Joe and Rayford Rolle; Three step children namely: Harrison and Anthony King and Brenhilda Pascal; One Sister-in-law Fredericka Rolle; One brother-in-law Daniel Knowles; Numerous nephews namely: James, Benjamin, Charles, Patrick and Joel Belle, Maxwell, Obadiah, Bishop Oral Ray of (RBPF), David, Steven, Claudius, Stephen, Makarious, Rinald, Daniel, Nardo, Dwight and Shem Rolle, Alfred Moss Jr., James Pratt, Ricardo and Michael King, Petty officer Nelson Strachan (RBDF) Alphonso, Carl and Troy Strachan; Numerous nieces namely: Helena Norfolk, Naomi Howard, Ruth Morrison, Laveughn Jackson, Edith, Tleca, Phillis, Alicia, Ruth, Bettyann, Rosemary, and Pastor Myrtle Rolle, Elizabeth Roberts, Gloria Lammens, Devona and Davina Knowles, Danielle Pratt, Gwendolyn Belle, Veronica Wilson, Gretel Stuart, Lenora Heild, Elleanor Pintard, Maxine Armbrister, Maryann Rolle, Kim Moss, Keisahna, Ava and Athama Pratt, Naomi Bethel, Danielle Smith, Janice and Pastor Vallaria Strachan, Leothea Laing and Vanessa Dorsette; Numerous other relatives including Eniel Strachan, Debbie Knowles and the Dozier family, Ralph and Kania Musgrove, Anthony Eulin, Shanda Brennen and family, neighbors of Golden Gates # 1 area, namely Ms. Dorsette and Ms. Brice, Dr. Stephen Thompson and congregation of Transfiguration Baptist Church.
Many other family & friends to numerous to call.
Friends may pay their last respects at Demeritte's Funeral Home, Market Street, from 10-6:00 p.m.on Thursday & on Friday at the church from 9:00 a.m. until service time.