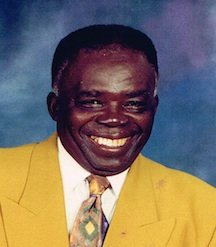 Albert Forbes
unknown - unknown
Funeral Service for the late Albert Forbes age 85 years old of Caspian Road and formerly of Sandy Point, Turks and Caicos Island, will be held at 11:00am on Saturday, July 13th, 2013 at Pentecostal Temple Church of God in Christ. Officiating will be Pastor Ismael Grant assisted by Bishop Tony Hanna. Interment will follow in Woodlawn Gardens, Soldier Road.
Memories will linger with his Wife: Maria; Children: Joseph, Danzil, Samuel Sr. & Gwendolyn Forbes; Grandchildren: Shonel Morley, Ricardo, Deandra, Samuel Jr., Tanisha, Tiffany, Elore & Keno Forbes; Great-grandchildren: Carlisa, Ricara & Reshae Forbes, Romell Russell, Le'Shon & Le'Shanto Bowe; Daughters-in-law: Antoinette, Mervel & Mizpah Forbes; Sisters: Almada Clarke, Gloria Forbes of Freeport, Grand Bahama & Victoria Pratt of Turks & Caicos Island; Brother: Thomas Forbes of Freeport Grand Bahama; Sisters-in-law: Mother Cynthia Grant, Caroline, Pearlena Forbes Of Freeport, Grand Bahama & Carrie Forbes of Turks & Caicos Island; Nieces: Victoria Forbes, Flossiemae Campbell, Carolyn King, Mary Collie, Carmette Demeritte, Emily, Eugenie & Nicolette Clarke, Irene, Marion & Pearline Forbes, Mavis Ritcherson, Margaret Smith, Gloria Forbes, Jacqueline Williams, Sheneka Harvey, Sandra Grant-Rolle, Cynthia Cooper & Avaline Grant; Nephews: Pastor Ismael Grant, Kenneth & Sonny Forbes, Stafford, Franklyn & Clayton McDonald, Walter, Emmanuel Sr., Timothy Sr. & Charles Sr. Forbes, Simeon, Andrew, Kendrick, Earl & Dale Clarke, Calvin Jolly, Kelsy & Elic Forbes & Richard Rolle; and a host of other relatives and friends including: Mr. & Mrs. Shad Rolle & Family, George & Elder Yvonne Deveaux & Family, Evangelist Lavina Rolle &
Family, Samuel & Pamela Lightbourne & Family, Elder Viola Roberts & Family, Rev. Dr. Everette & Minister Sheila Brown, Minister Israel Bodie & the communion Team of New Bethlehem Baptist Church, Bishop & Mrs. Tony Hanna, Apostle Kelson Miller & Family, Rev. Franklyn Miller & Family, Mrs. Maxine Wright & Family, Thompson Family, Rev. Levaughn & Joyce Miller & Family, Elvina Adderley & Family, Mrs. Rose Missick & Family, Willamea Williams & Family, Sister Gary Carte & Family, Sidney Cartwright & Family, Lorraine Seymour & Family, Majorie Stuart & Family, Dr. Arthur Clarke & Family, Victory Rolle & Family, Velma Taylor & Family, Hessiemae Bethel, Carolyn Nicholls & Family, Irie Evans & Family, Ismalene Bowe & Family, Daisy Armbrister & Family, Genevia Strachan, Annamese Newbold & Family, Annie Horton & Family, Pebbles & The Officers & Members of the Pentecostal Temple Church of God in Christ.
Viewing will be held in the Halcyon Suite at Restview Memorial Mortuary and Crematorium Ltd., Robinson and Soldier Roads on Friday from 10:00am to 6:00pm and at the church on Saturday from 10:00am until service time.