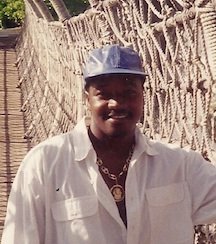 Audie Conliffe Kerr
unknown - unknown
Funeral Service for the late Audie Conliffe Kerr age 47, will be held on Friday July 12th, 2013, at 10:00a.m. at New Life Christian Center, Prince Charles Drive. Officiating will be Pastor Douglas Cleare assisted by Pastor Orlando Thompson other Ministers of the Gospel. Interment will follow in the Southern Cemetery, Cowpen and Spikenard Rd.
Those Left to Mourn and Cherish His Memories Include:
Cherished memories are held by: his Mother Mrs. Sheila Huyler, Two Sons: Audie Jr. and Moses Kerr, Six Daughters: Mary, Deborah, Naomi, Audreka, Anna and Esther Kerr. Brothers Terrance Huyler and Julian Newbold, Sisters: Kiola and Cherese Newbold, Sister in Law: Latesha Newbold, Grand Mother; Mrs. Sarah Cleare, Six Aunts: Louise Moss, Anne King, Virginia Egidio, Veronica, Beatrice Rolle and Virginia, Uncles: Peter and Joseph Rolle, Derek and William Cleare , Geoffrey King and Allan Egidio; Grand Aunts: Drucilla Rolle,Geraldine Darville, Vervilee Curtis, Edithmae Ferguson, and Collette McKenzie; Grand uncles; Alvin, Allan, Lionel, Carl, and Ashley Smith.
Numerous other nieces, nephews, cousins and other relatives and friends including; Mr. Ernest Huyler and family, Mr.Rudolph Kerr and Family, Barbara Williams, Rosie Kerr and family, Florida Rolle and family, Doreen Bain and Family Leslie & Elrick Bowe and Family, Freddie and Family. The Sandy Port, Old Fort Bay and Delaport Communities.
Viewing will be held in the Legacy Suite of Vaughn O. Jones Memorial Center, Mt. Royal Ave. and Talbot St. on Thursday from 10:00 a.m. to 6:00 p.m. and on Friday at the Church from 9:00 a.m. to service time.