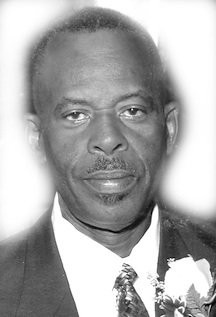 Barrington Stevenson Outten
unknown - unknown
Funeral Service for Mr. Barrington Stevenson Outten age 61 years, Resident of Sarah Robinson of Farrington Road, will be held on Saturday July 13th, 2013, at 10 am, at St. John's Native Baptist Church, Meeting Street, officiating will be Rev. Jerome Johnson & Pastor Eric Lightbourne, Interment will follow in Woodlawn Gardens Cemetery, Soldier Road.
Barrington is preceded in death by his parents, Gustavus & Candaisy Outten, brothers, Gordon & Everette Outten, sister, Valencia Outten, wife, Judy Outten, children, Trevor, Terrell, (Meredith), Dwayne (Irene), & Carrington Outten, Janine (Deangelo), Outten-Deveaux, Terah (Jamaal) Fisher-McKinney, Tina Brown, grandchildren, Travis, Terez, Trevonya, Trevano, Trevor jr., Sheron, Anzario, Ashley, Terrell jr., Dwaymon, Tyisha Rebecca & Delonte Outten, Jordan Taylor, Gabrielle Deveaux, Tia & Randolph Clarke & Jamaal McKinney jr., sisters, Rev. Veronica (Eddion) Hamilton & Latoya (Dean) Hibbert, brothers, Carlton, Phillip, Stanford (Marjorie), Bradley (Kimberley), Terrance (Sarah) Outten, Anthony (Naomi) Harris, adopted brother, Ian Lightbourne (Big Red), sister-in-law, Terry (Dennis) Dames, brother-in-laws, Patrick (Janet), Glen (Jan) & Carl (Donna) Fisher, aunts, Francita Outten, Gloria Lord, Terecita Miller, Sonia Charlow, Virginia Peris, Clara & Edith Outten, Robertha Hepburn, aunt-in-law, Carol Young, uncles, Paul Jr., Charles, Christopher, Cecile (deceased), William (deceased), John, Donnie Outten, Isaiah Hepburn, Fredrick Lord, Harry Miller, Carl Charlow, uncle-in-law, Dudley Kelly, nieces, Attorney-at-law Alecia Bowe (Diveane), Yvette Feaste, (Troy), Kenya Armbrister, Machquel, Teneka, Tamika, Caitlin, Chaka, Shavanna, Shekira, Shanae, Stanique, Staniecia, Yasmine, Giselle & Tara Outten, Kara Pedican, Carlette (Henderson) Scavella, Megan Evans, Aneisha & Antonia Harris, nephews, P/Sgt. 2164 Leonardo Smith, (Shevette), P/Cpl. Bryant Outten (Kiesha), PC519 Eugene Outten (Johnette), PIC 3148 Terrance Outten (Alistina), DC 2752 Jamaal Hamilton, Ricardo Hamilton, Tevin & Davis Kemp, Devon (Alecia), Dario (Yvette), Angelo, Dee, Geraldo, Phillip jr., Shaquille, Julian, Stanford jr., Shonario, Bradley jr., Anthony (Nikeira), & Damien Outten, Buen Lynes, Giovanni Bain, Kadean Hibbert, Joshua, Antonio, Ethan & Nathan Harris, relatives & friends including, Anthony 'Smokey' Moss & family, Nevil 'Pro' Bosfield & family, Alfred 'Fido' Smith & family, Alfred Ferguson & family, Derek Ferguson & family, Sir Arlington Butler & family, Olvin Rees & family, Hon. Hubert Chipman & family, Judy Adderley & family, Sherry Ellis-Benjamin & family, Eddie Sears, Wayde Smith, Paul Demeritte, Dennis Richardson, Peter Gilcud & family, Keith Hanna & family, Jerome Godfrey & family, Ralph & Margaret Foskin, St. Augustine's Class of 1071, Veronica Wilmott, Francelia Outten & family, Christine Longley & family, Blanche Neely & family, The Colebrook family, The McPhee family, Paula Major & family, Dr. Duane Sands, Dr. Conville Brown, Dr. Ramsey, Dr. Hubert Minnis & family, Nurses & staff of PMH & Doctors, Atlantis, Paradise Island Casino family, Staff of Road Traffic Department, The Farrington Road Community.
Relatives & friends may pay there last respects at Riverside Funeral Chapel, Market Street & Bimini Avenue on Friday from 10 am until 5 pm & at the church on Saturday from 8:30 am until service time.