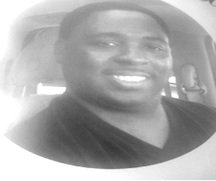 Michael William Sands
unknown - unknown
Funeral Service for the late Michael William Sands age 34, will be held on Friday July 12th, 2013, at 11:00a.m. at the Final Hour Apostolic Cathedral, Fox Hill Road South. Officiating will be Apostle George O. Fowler assisted by Pastor Saveletta Fowler other Ministers of the Gospel. Interment will follow in the Lake View Memorial Gardens, John.F. Kennedy Drive, Nasssau Bahamas.
Those Left to Mourn and Cherish His Memories Include:
his wife, Raushanah Smith-Sands, one son: Michael Sands, Jr; step daughter: Czareid Smith his loving mother: Elder Enid Clarke, Father:Michael Sands, adopted mother: Linda Marshall; ,grandmother: Francis Clarke; one brother: Marcian Clarke; 3 sisters: Michaela Clarke, Tamica Sands-McKenzie and Jatara Sands. 2 Nephews: Seantino Clarke and Jadyn Gardiner; 3 neices: Lashan and Cierra Gardiner, and Tiara Sands. Mother and father-in-law: Millicent and Joseph Smith; 2 brothers-in-law: Jameel Smith and Jamaal McKenzie; Aunts and uncles: Sheila Clarke, Helen Clarke, Paula Lowry, Marsha & Bruce Williams, Joseph and Sheila Clarke, Deacon Johnathan and Patricia Clarke, Debra & Mervin Davis, Yves Audate, Vincent Mangura, Carl Walden, Sandra Sweeting, Brenda McFall, Jeffery Brown, Jamaro Humes, and Terrence Sands; Grand-aunts and grand-uncle: Dressler Brown, Queenie and Charles Deveaux. Great grand-aunts and great grand-uncles: Marley Colebrooke, Mary and John Hutchinson, and Margaret Hanna; 2 God-parents: Vanria Edwards and Calvin Mason; 1 Godchild: Ericquell Parker; Cousins: Daphane, Denise, Dario, Kathrine, Keith, Kirk, Kayla, Kissinger, Krystal, Andrea, Adrian, Anastasia, Antoinette, Arlene, Anton, Kendrick, Kendra, Kendal, Yvette,Yvonne, Stephon, Kenese, Keishnell, Joeann, Niki, Joyann, Johnathan, Jr., Maria, Adelicia, Tekeilla, Tony, Tiffany,Minister Tonette, Tarez, Tennille, Melinda, Shenique, Samuel Jr., Raymond, Ramone, Maralyn, Jermaine, Perez, Raheem, Tanisha, Resheen, Takia, Cordero and Sharee. Cousins-in-law: Erick Parker Sr., Deandrea, Don Rodgers,
Ken Webb, Lincoln Gay, and Kelly Kemp, many other cousins too numerous to mention. A host of other relatives and friends including: The Doctors and Nurses in the MICU at Jackson Memorial Hospital, Apostle George and Pastor Savaletta Fowler and the Final Hour Apostolic Church Family, God Kingdom Ministry Church Family,Miami, Florida; Bahamas National Drug Agency, Atlantis Laundry Department, Department of Public Health,Ormond Gibson and Family; Damien "Chubby", Raymond "Monkey", Garnette "Silk", Lenny "China", Ramond "Buga", Michael "Feather", Elton "Fat Boy", Avery, Owen, Tessie, The Gibsons and the Cash Families; Evangelist Ingrid and Maxine Brown, Evangelist Prenell Taylor, Theressa Walkes, Ethel Burrows, Gregory Daxon, Mrs. Malcolm-Bridgewater, Minister Lisa Bain, Minister Albertha Bridgewater, Elder Jennifer Butterfield, Minister Tiffany Moss, Michael Hudson, The entire graduation class of 1996 C.C. Sweeting Senior High, including Jasmine, Mark, Boyd, Farris, Allan, Sonobia, Orlando, Cecil, Van, and the entire Bain Town Community, especially Dumping
Ground Corner and so many other relatives and friends too numerous to mention.
Viewing will be held in the Legacy Suite of Vaughn O. Jones Memorial Center, Mt. Royal Ave. and Talbot St. on Thursday from 10:00 a.m. to 6:00 p.m. and on Friday at the Church from 10:00 a.m. to service time.