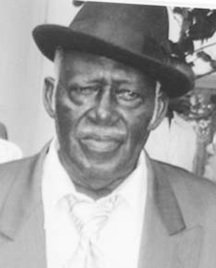 HENRY BROWN
unknown - unknown
Funeral Service for HENRY BROWN aged 88 years of Old Bight, Cat Island who died on Friday, June 5th, 2013 will be held on Saturday, July 20th, 2013 at 10:00am at St. Johns Native Baptist Church, Meeting Street. Officiating will be Rev. Dr. Hervis L. Bain Jr. assisted by Rev. Reginald Ferguson and other Ministers of the Gospel. Interment will follow in the Lakeview Memorial Gardens Cemetery, John F. Kennedy Drive & Gladstone Road.
Left to cherish his fond memories are his loving Wife: Eulie Brown; (6) Daughters: Carmetta Walker (Reuben Walker), Nurse Joycelyn Cartwright (Christopher Cartwright), Ruthnell Brown (Livingston Brown), Winifred Neely (Brain Neely Sr.), Marguretta Ume (Lawrance Ume) and Sheila Brown; (2) Sons: Winfield Brown (Marge Brown), Christopher Brown (Erica Brown); (59) Grandchildren: Patricia, Theresa, Veronica, Ingrid Clarke (Lester Clarke) Shavonna Troy, Sean and Ian Walker (Dellarese Walker), Hiram Brown Jr., Bernadette, Shantell, Anika Bain (Trevor Bain), Anya, Andrew, Elexio, Lakeisha, Steveanna, Tishka, Kenrick, Marvin, Warren, Rashad, Allison, Simone, Brittany, Kalson, Nickita, Janet Wright (Micheal Wright), Tiffany, Samantha, Karlene Kemp (Ozzy Kemp). Shandia, Victoria, Antone Neely (Eliya Neely), Brain Jr., Jeremy, Chika, Chidimoria, Ronald, Dwayne, Chema, Crystal, Christie, Alexandria, LaShonda, Valentino, Christopher Jr., Ranaldo, Theresa, Jennifer, Kenneth, Lemual, Alfred, Kelsie, Leonardo, Sherwin and Angelo; (78) Great-grandchildren; (2) Great-Great grandchildren; (8) Nieces & (10) Nephews including: Agnes Thompson, Cynthia, Nyoka, Elizabeth, Miriam, Maryann, Marina, Hasten, John, Philip, Andrew, Anthony, Joe of Miami Fl., Franklyn, George, Patrick, Alfred Saunders, Stephanie and Blatch; (1) Sister-in-law: Eurma Neely of Old Bight, Cat Island; Numerous Grand Nieces and Nephews including: Geraldine Pratt, Patrica Forbes, Miriam Bowe, Pastor Alfred Jolly, Police Cpl. 938 Audie Murphy, Janet, Cheryl and Judy; Custom Officer Kirk Thompson, Adrian Thompson; Numerous other Relatives and Friends including: Madlyn and Rev. Henry Pratt, Jennie Rolle, Vincent and Marina Jolly, Nora Rolle & Family, Bishop Lawrence Rolle & Family, Emerald and Natalie Brown & Family, Agnes Smith & Family, Alonza Brown & Family, Sandralee Rolle & Family, Brenda Canter & Family, Pastor Helen McPhee & The Agape Full Gospel Church Family, Elder Frank Ward & Family, Gwendolyn Thompson & Family, Nurse Rekina Rolle & Family, Jeffery Dean & Family, Pastor Vernice Storr & Family, Rosemary Wallace & Family, Monica Hart & Family, Derick McMinns & Family, Management & Staff of Private & Surgical Ward, Shelly Brown, The Entire Community of Old Bight and a host of other relatives and friends too many to mention.
Viewing will be held at Clarke's Funeral Home #10 Tonique Williams-Darling Highway on Thursday, Friday, July 19th, from 10:00am to 6:00pm and on Saturday from 9:00am at the Church until service time.