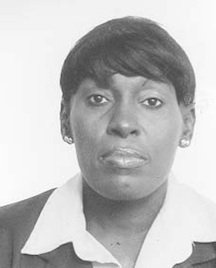 Jocintha Maria Knowles
unknown - unknown
Funeral service for Jocintha Maria Knowles, 46 yrs., a resident of Graham Drive, Yellow Elder, will be held at Final Hour Ministries, Fox Hill Road, on Saturday at 11 a.m. Officiating will be Rev. Vincent O. Moss, assisted by Rev. Lamont Saunders. Interment follows in Old Trail Cemetery, Old Trail Road.
Left to cherish her memories are her children: Kino Knowles & Alicia Katanna Sands; granddaughters: K'Lisa & Sashanique Knowles; sisters: Jonice Kemp, Jocelyn Missick, Janiska Major, Patricia Kemp & Amanda Sawyer; brothers: Jerome Johnson, Julian Knowles, Juan Cartwright & Walter Sawyer; aunts: Ismaeline Ferguson, Dorothy Moss, Margaret Munnings, Ruth Knowles & Andrea Williams; uncles: Rev. Vincent Moss, Hartley Morrison & Glen Knowles; great grand aunt: Erma Burrows; nieces: Stephanie, Daphane, Maxine Johnson, Daniska Kemp, Waltesha Sawyer, Calia Kemp, Tess, Kena Kenjauna Cartwright, Ternisha Cartwright, Jaynell, Jacquell, Jaynique Johnson; nephews: Daniel Kemp Jr., Denardo Gray, Deangelo Moncur, Devin McKenzie, Kenjuan, Juan Jr. Cartwright, Jerome Jr., Jayvon Johnson & Trejon Moxey; brothers-in-law: Kelsey Missick & Philip Moxey; grand niece: Godnique Johnson; grand nephews: Stephon Johnson & Jaden Smith; cousins: Harry, Christopher, Garnet, Preston, Patricia, Donna & Catherina Ferguson, Burth Miller, Richardo, Pedro & Tito Moss, Kate Clarke, Joan Knowles, Lisa, Valerie, Joanne, Patricia, Angie Kemp, Queenie Missick, Val Major, Stephen, Paul Farrington, Brendalee Darling, Philip, Teddy, Linden, Stephen, Tyrone Forbes, Kayla Johnson, Terrance, Edmund Knowles Jr., Donna Hepburn, Hilda Johnson, Marsha Adderley, Michelle Stuart Amor, Stacy Stuart, Pastor George Stuart, Richard Stuart, Shaun Hunt, Shardy Hunt Brown, Nadya Munnings Pratt, Vashi Charlton, Mizpah Knowles, Saucier, Tessa Morrison, Kendra, Tara, Portia Knowles, Randell, Don Knowles, Rodney, Demetrius, Richard Munnings, Cynthia Kemp, Clarise Harris, Obediah Charlton, Glenardo Matthew, Travis Knowles, Ray, Wayne, Alvin Morrison, Harley, Harvey Morrison, Marvin Knowles, Barry, Ralph, John, Perry, Dereck, & Justin Kemp; a host of other relatives & friends including: Cedric Daxon, Petula Taylor, Nina Fox, Veronica Seymour, Telima Bain, Tanya Storr, Hazel Kemp, Ministry of Foreign Affairs & Immigration, Main Post Office, Passport Office, St. Jude Baptist, the Yellow Elder Garden community, Min. Glenys Hanna Martin, St. Bede's Catholic Church family, Pastor Marina Sands, Rev. Lamont & Debbie Saunders, staff of Sealy Ward, Atoe's Holding Ltd., Wendy - International & Domestic & Airport Car Wash Association.
Friends may pay their last respects at Demeritte's Funeral Home, Market Street, from 10-6:00 p.m.on Friday & on Saturday at the church from 10:00 a.m. until service time.