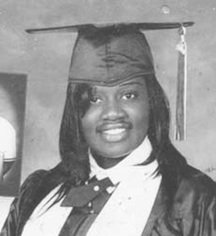 KATIANA FRANCOIS
unknown - unknown
Funeral Service for KATIANA FRANCOIS aged 21 years of Harbour Island who died on Tuesday, June 25th, 2013 will be held on Saturday, July 20th, at 2:00pm at New Alliance Church of God, Harbour Island. Officiating will be Pastor Jean Robert Julien assisted by other Ministers of the Gospel. Interment will follow in the St. Catherine's Cemetery, Harbour Island.
She is survived by her Parents: Antoinette Francois and Jerry Claude Gelin; Brothers: Robens Gabriel Francois, Benedick Francois & Daniel Gabriel; Sisters: Yvrose Francois, Sonia Gabriel, Naomi Gabriel, Sonice Gabriel, Glaudette Gelin, Sonia, Leonard; Uncles: Delva Jospeh & Ylaciceu Fancois & Ponslai Gein; Aunts: Elvita Francois, Rosette Francois, Mary Ann Gelin, Silencia Francois, Germaine Francois, Emelda Gebin & Annette Pierre; Brother-in-law: Elet; God brother: Jean Rony Francois; Godchildren; Eva Ettienne & Windel Pierre; Cousins: Gloria Francois, Ann-Rose Gelin, Anna Calixte, Kethar Dugazon, Watson, Wend, Victoria & Dorrica Lubin, McKenzie St. Remy, Dorzelia Lubin, Brunette Pierre, Lucie Pierre-Joseph, Serville Pierre, Allan Pierre, Enese Pierre, Giselle Pierre, Leoni Pierre, Fresnel Pierre of Miami Fla., Alfred Joseph, Felecia Joseph, Julie Jean, Elvita Joseph, Brunadette Lubin, Pastor JnRobert Julien, Anivience Pierre, Wilfred Lubin, Robert Julien, Barnave Julien, Roseline Julien, Judith, Phebee, Robert Jude, John, Mme, Robert and Mme Barnave Julien, Luvine Francois, Bazlaire and Ansenio Francois, Mr. Reney Telfort; Special Thanks To: Mark Pierre & family, Ms. Emilien & family, Yvonne Charles & family, Mr. Mario Grant & family, Ms. Gayline Knowles & family, Ms. Felicia & family, Mme & Mr. Ylaidieu and family, Dr. Robert Francois, Blaire Percentie, Averi Cleare, Jessica, Jennie Charles, the Pastors, officers and members of New Alliance Church of God and the entire graduating class of Harbour Island All Aged School 2010.
Viewing will be held at Clarke's Funeral Home #10 Tonique Williams Darling Highway on Thursday, July 18th, from 10:00am to 5:00pm and on Friday, July 19th from 1:00pm at the Church in Harbour Island until service time.