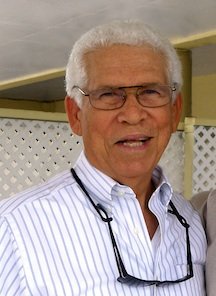 Philip Hilary Cartwright
unknown - unknown
Memorial service for Philip Hilary Cartwright, age 76, of Freeport, Grand Bahama will be held on Saturday, July 20, 2013 at 10:00 a.m. at Mary, Star of the Sea Catholic Church. Officiating will be Father David Cooper. Philip died in his home on Thursday, July 11, 2013.
He is survived by his wife, Martha Scott Cartwright; one son, Stephen Patrick Cartwright; one daughter-in-law, Hortense Turner Cartwright; one grandson, Stephen Travis Cartwright; one step-grandson, Stephen Roswell; three sisters, Verna Cartwright, Agnes Cartwright and Maris Saunders; three sisters-in-law, Rosena "Rosie" Cartwright, Susan Kuhlman and Sallie Dillian; one brother-in-law, Lorenzo Cartwright; nieces and nephews, Patrick Cartwright; Joseph "Joey" Cartwright, Cynthia Cartwright, Deborah Cartwright, Sandra Ingraham, Terri Farrington, Marie Moree and Johnny Cartwright, Henry "Hank" Saunders, Deanna Saunders, and Debbie Kelly; and numerous other relatives and friends.
Special thanks to Dr. Erik Brown and his wife, Stephanie, Dr. Marcus Bethel, to Father David Cooper, Father Remy David and Paul Lane of Mary, Star of the Sea Catholic Church, to Freeport Jetwash and Automart, to Norma Headley and Monique Cartwright of the Cancer Association of Grand Bahama, to Colette Swenson and Maria Freed of ORNOA, Ft. Lauderdale, Florida; and to Martin Munroe, Wide World Forwarding Ltd.