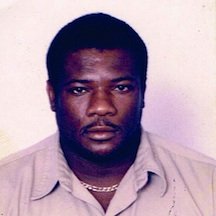 Simeon "Rickey" Ricardo Newbold
unknown - unknown
Funeral Service for the late Mr. Simeon Ricardo Newbold affectionately called "Rickey" age 50 years old of Sunshine Park and formerly of Hatchet Bay, Eleuthera will be held on Saturday July 20h, 2013 at 2:00pm at Bethel Baptist Church, Meeting Street. Officiating will be Rev. Timothy Stewart. Cremation will follow.
His memories will forever remain in the hearts of his loving mother: Auralee Newbold; daughter: Rickara Newbold; sisters: Sherry, NOII Jacquelyn & Asia Newbold; brothers: Petty Officer Marvin Newbold (RBDF) & Arjay Newbold; nephews: Corp. 1544 Vaughn Wood (RBPF), Marine Seaman Eduardo Rolle (RBDF), Shawn & Joshua Newbold; nieces: Itika Nairn, Marcia Kemp, Antonia, Anthera, Debbrianna & Meldorese Newbold, Nurse Samantha Wood; grandnephews: Deshawn & Keishawn Newbold, Vaughn & Ethan Wood; grandniece: Kourtney Kemp; aunts: Louise McKenzie & Prescola Fox of Eleu.; uncles: Willis Newbold of Florida & Theophilus Bain of Freeport; sisters-in-law: Deborah & Cynette Newbold; other relatives & friends including: Ramon Philip, Keith Pintard, Rudy Stubbs, Randy McClain, Jeffrey Nottage, Beverly Moss, Sophia Seymour, Inspector Christopher Bain & Margaret Bain, Cheryl & Rev. Eric Johnson, Basil, Alphonso & Sarah McKenzie, Nezlyn Riley & Family, Cindy, Libby, Don, Vivvy & Langton Bain, Barbara Jane Moore & Family, Mario Newbold, Augusta Greenslade, Judy, Valarie, Jenny & Willis Newbold, Clarice Pratt, Alice Johnson, Dellarese Dean, Matthew, Lucius, Lorento, Petra, Hopel & Meko Fox, Lisa Brian, Charmaine, Latoya, Katanya & Meoika Rolle, Family of the late Erma Thompson, Ralph & Roberta Thurston, Glenda Wildgoose, Ceeny Butcher, Quietin, Lynden, Gavin, Petty Officer Lorenzo, Carey & William Carey, Blake Bartlett, Monique Gibson, Marcia Sawyer, Benjamin Newbold & Family, Ivy Smith & Family, Mable Forbes & Family, Bertram Stuart & Family, Sheila & Samuel Arthur, Zella Roberts, Samantha Butterfield, Kandra Jones & Family, Jennie Basden, Janet, Frank, Jeff & Slain Williams, Family of the late Leonard McKenzie & Augusta Newbold, Rev. Lambert Farrington & Bessie Dean, Meredith Newbold, Sandra Turnquest, Alvira Bowe, Jackie Dean, Deloris Cooper, Ivy Hudson, Camille Cox, Rev. Rudolph & Sandra Pinder, Gloria Lewis, Tabitha Burrows, Antoinette Rolle, Barbara Major, Laverne Johnson Dean, Sophia Quant, Ella (wilderness), Shavonne Burrows, Descendants of the late Louise & Boonville Turner, Corene Duncombe, Estella Dorsett, Descendants of the late Susanna & Joseph Johnson, The entire Community of Sunshine Park & Hatchet Bay, Eleuthera, The Staff & management of Rudy's Restaurant & bar & Former staff of the Bank of Montreal. Gone, but will never be Forgotten!
Viewing will be held in the Serenity Suite at Restview Memorial Mortuary and Crematorium Ltd., Robinson and Solider Road on Friday from 10:00am to 6:00pm and at the church on Saturday from 12:30pm until service time.