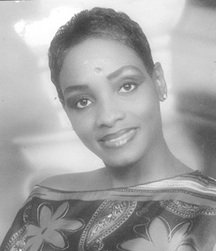 Tamika Kiarra Davis
unknown - unknown
Funeral service for Tamika Kiarra Davis, 30 yrs., a resident of Unison Road off Carmichael Road, will be held at St. Ambrose Anglican Church, Gladstone & Carmichael Roads, on Friday at 11:00 a.m. Officiating will be Archdeacon James Palacious. Interment follows in St. Joseph's Cemetery, Boyd Road.
Left to cherish her memories are her Daughter: Kiarra Dawkins; Grandmother: Nathalie Duncombe; Siblings: Kayla Taylor, Melanie McKenzie, and Stevem Blaques; aunts: Antoinette Dean, Dorothera Brown, Miriam Cox, Agnes Battle, Kim Pratt- Wyatt, Janel and Tiffany Pratt; uncles: Jeffery Adderley, Rudolph Brown, Desmond, Starsky and Kettly Pratt; grandaunt: Sheila Murchison; cousins: Vanessa Brown, Kayla Dean, Anishka, Nathania and Philippa Watkins, Crystal Cartwright, Shandon Wells, Brenard, David, and Nicole Dean, Domonique and Rachel Brown, Michael, Kristin, Ashley and Miley Cartwright, Kelly Bastian, Alyssa and Nathan Culmer, Ebony Brown, Jeffrey Jr. , Tyesha and Quantaya Adderley, Shandon Jr. and Ansonique Wells, Sidney and Rashad Ospin, Kadejah Reckley, Shaquel, Sariah, Jauante, Hakeem and Cindy Pratt, Niesha Wyatt and Travett Dawkins; other Relatives and Special Friends: Kevin and Kim Dawkins and family, Garnet and Donaldton and Family, Sherri and Darrel Green, Debbie Hobbs, Michelle Longus, Jackie Pinder, Shonell and Shavone Davis, Ricardo Hinsey, Deborah Arthur and family, Claudia Seymour, Annamae and Anthony Poitier and family, Phillip Watkins, Yazmin Brown, Shacantila Johnson, Shakerta Laing, Alsaida Brown and family, Emily Hamilton and family, Henry King, Philip Kemp, Shawn Rose, Beverly Henfield and family, Sherell and Jeremiah Kemp and family, Rosanna Curry, Annie Roach, Crystal Bowe, Serena Cummings, Rhondell,Toni, Tina, Yinka, Malvina, Richea, Carlene, Jaimi, Keisha, Trayetta, The Management and Staff of Kafé Kalik, The Staff of L.I.P. Concession, The Management and Staff of the Dutch Oven, The Sandilands Rehabilitation Food Service Department and The Princess Margaret Food Service Department.
Friends may pay their last respects at Demeritte's Funeral Home, Market Street, from 12-6:00 p.m. on Thursday & on Friday at the church from 10:00 a.m. until service time.