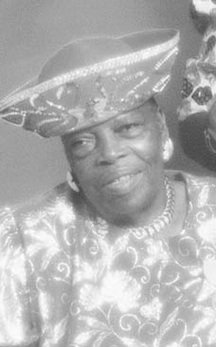 Carmetta Hepburn Gaitor
unknown - unknown
Funeral service for Matriarch Carmetta Hepburn Gaitor, 91 yrs., a resident of Mastic Drive, Blue Hill Heights & formerly of Smith's Bay, Cat Island, will be held at Golden Gates World Outreach Ministries, Carmichael Road, on Saturday at 11:00 a.m. Officiating will be Bishop Ros L. Davis & Bishop B.Wenith Davis assisted by Pastor Charles Dorsett, Pastor Alan Strachan, Apostle Elva Russell & other Ministers of the Clergy. Interment follows in Woodlawn Gardens, Soldier Road.
Left to cherish her memories are her Six Daughters: Myrtis Gaitor, Maria Newton, Voidell Thurston, Madge Smith, Euna Fritzgerald and Patrice Davis Senior Customs Officer; Six Sons, Retired A.S.P Reginald Gaitor (R.B.P.F), Willard Gaitor, Retired Petty Officer Leslie Gaitor (R.B.D.F), Raymond Gaitor, Inspector Tony Gaitor (H.M.P) and Jerry Gaitor; Forty-three (43) Grandchildren: Christine Gaitor, Elizabeth Newery, Stephanie Lewis, Inga Saunders, Kevin Lighbourn, Tracy Fowler, Shenell Brennen, Shenique Lightbourn, Tava Newton, Patricia Curry, Ethel Thurston, Yvonne Smith, Shuna Thurston, Shelly Clarke, Deborah Cleare, Dyancah Rahming, Swannie, Brian & Soweto Rolle, Lathia Meadows, Lavardo Gaitor, Natherio, Karmar & Pedro Henfield, WPC 3287 Tiffany Williams (R.B.P.F), Staff Nurse Vernencha Adderley, Sgt Wayne Gaitor (H.M.P), Decon Ashley Gaitor, Toya Gaitor, Marvette & Tieco Gaitor, Lashaka, Leslie Jr. & Laurentino Gaitor, Erica Morris, Danielle & Jonathan Gaitor, Brent Wong, Mechelle Sweeting, Antoine & Tonisha Gaitor and Sherena Sergeant; Seventy-one (71) Great Grand; Seventeen (17) Great Great Grand Children; Four (4) Sisters: Emily Johnson, West Palm Beach, Fl. Naomi Seymour, Freeport Grand Bahama, Prescola Allen and Ruth Charlton; Two ( 2) Brothers: Erskine and Elkanah Hepburn of West Palm Beach , Fl.; Three (3) Son in Laws: Harold Fritzgerald, William Smith and Minister Livingston Davis; Four (4) Daughters in Law: Gerollette, Althea, Janice and Dawn Gaitor; Other Relatives Including: (33) Nieces and (23) Nephews, a host of grand and great-grand nieces and nephews including former members of Parliament Hon. Ron Pinder and Hon. Zhivargo Laing, Coralee Sturrup & family, Olive Butler, Caregiver Mrs. Anocia Joseph, Dr. H. A Simmons, Dr. Agreta Eneas Carey, Amos Gaitor & family, Bishop B. Wenith Davis & family, Bishop Ros L. Davis & family, Cannon Curtis Robinson & family, Father Whitfield Hutchinson & family, Rev. Terrance Morrison & family, Min. Floyd Jones & family, Min. Teddy Dorsette & family, Min. Dorothy Bain & family, Bishop Lindo Wallace & family, First Street the Grove families, Naomi Williams, Edmond Moxey, Glendia Huyler, Phillip Taylor, Cheryl Nicholls, Ann Culmer, St. Matthews Day Care Center, Straw Market families, Cat Island United Association Lodge, Zion South Beach Baptist Prayer Band & Church families, Golden Gates World Outreach Ministries, Christ the King ACW families, Transfiguration Baptist Church families, Coconut Grove Temple families, Johnson family, Simmons family, Moncur family, Hart family, King family, Rose family, McKinney family, Davis & Taylor families, Dorsette family, Josey family, Seymour family, Armbrister family, Hart family, Russell family, Brown family, Pinder family, Deveaux family, McKenzie family, Saunders family, Bodie family, Cat Island families of Smith's Bay, New Bight, Old Bight, Arthurs Town, Bennetts Harbour, Cove, Orange Creek, Knowles, Doctors and Nurses of Female Medical I , Staff of Bahamas Customs, Prison and Royal Bahamas Police Force.
Friends may pay their last respects at Demeritte's funeral Home, Market Street, from 10-6:00 p.m. on Friday & on Saturday at the church from 10:00 a.m. until service time.