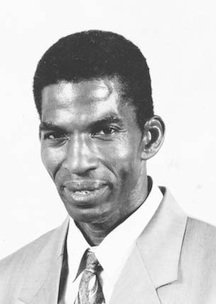 Henry Hanna
unknown - unknown
Funeral Services for Henry Hanna, age 64 of Golden Gates #2 who died on July 13th 2013 will be held on Saturday at 11 a.m. at New Hope Missionary Baptist Church, Joan's Heights West. Officiating will be Pastor Elmond King assisted by Other Ministers. Interment will follow in Woodlawn Gardens, Soldier Road.
Left to cherish his memories are his loving wife: Yvonne Hanna; one son: Javon Hanna; two sisters: Alfreda Hart of Freeport Grand Bahama and Madelyn Simms of Delray Beach Florida; three uncles: Ednal, Preston and Curtis Hanna; nieces: Isabell Daisy, Judy Hart, Deidre McIntosh, Telciemae Bonimy, Monique Hart, Shirley Grant, Beverley Lynes, Rowena Johnson, Roselda Gibson, Edith McKenzie, Tanya Gaitor, Unay Gibson, Donnella, Roselda, De'Shonna and De'Shanna Rolle, T'Shura Gaitor, Kendricka Moss, Cleolisa McKenzie, Kenya Ferguson, Kadisa Bastian, Theresa and Jacqueline; nephews: Jeffery, Gregory and Leonard Forbes, Eric Collie, Kevin Ferguson, George and Charles Simms, Nelson and Gregory Laramore, Kerim Gaitor, Kendrick Moss, Anthon Gaitor, Kavon Bastian, Frank and Brian Gibson; brothers-n-law: Clifton Gaitor of Harbour Island, Nevelon Gaitor, Kendal Moss, Austin Rolle of Freeport, G.B., Allen Gibson and David Rolle of Abaco; sisters-in-law: Clarice Moss, Edith Rolle of Abaco, Mispah Gaitor and Doralyn Bastian of Dumfries, Cat Island, Sonia Gaitor and Pearline Rolle of Freeport Grand Bahama and Olive Gaitor; other relatives & friends: Mrs. Sharon Rolle, Barbara Toote,Sylvia Gaitor, Jeffrey McKinney, Mary Scott & Family, Pastor Elmond King & Family, Requel Edwards, Clyde Rolle & Family, Philip Forbes & Family, The Labranche Family, The Rahming Family, Ruth, Idell, Esther and Jacquelyn, Families & Friends of St. Barts Road, The McClennen Ward, Geriatric Hospital; The Saunders Family and The Bahamas Customs Department, The New Hope Baptist Missionary Church Family and The King Family.
Friends may their last respects at East Sunrise Mortuary, Rosetta Street, Palmdale from 10 a.m. to 6 p.m. on Friday and at the Church from 10 a.m. on Saturday until service time.