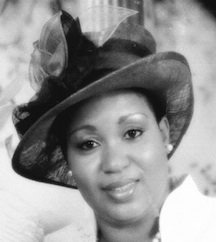 Lolieta Michelle Mackey
unknown - unknown
Funeral Service for Ms. Lolieta Michelle Mackey, age 43 years, a resident of Kildere Street, Monastery Park will be held on Saturday July 27th, 2013, 10:00 a.m. at the Five Porches of Deliverance Centre Apostolic Tabernacle Church, Market Street & Poinciana Avenue. Officiating will be Apostle Rodney Roberts assisted by Prophet S.J. Farquharson. Interment will be made in Lakeview Memorial Gardens & Mausoleums, John F. Kennedy & Gladstone Roads.
Left to cherish her memories: Parents: Michael and Dorinda Mackey; Children: Rashad and Sakayra; Siblings: Susan Simmons, Jarm Mackey, Yvette Mackey, April Fields of Ft. Pierce FLA and Deborah Mackey Johnson who predeceased her; Uncles: James Frazier of Valdosta, GA., Herman, Philip, Harry, Timothy, Andrew and Sidney Frazier, George, Abraham, Vincent and Haram Mackey, William Major; Aunts: Anniemae Major, Patsy Frazier Dennis of Cocoa FL, Rachael Frazier (deceased), Ann Frazier (deceased), Sandra Frazier, Diana Frazier of California, Sandra Frazier, Alice Mackey, Hettimae Mackey, Ivorine Moore (deceased); Sister-in-law: Sophia Mackey; Brother-in-laws: Humphrey Simmons, Oscar Gavin Johnson; Nieces: Jade Simmons, Anaya Johnson, McCardia Fox; Nephews: JaVante Mackey, Jaden Armaly, Matthew Capron, Herb Simmons; Cousins: Racquel Perez, Geronimo, Natalie and Monique Major, Kioney, Kelson, Kamal and Kaneesha Frazier, Timothy Frazier Jr., Detima, Macquel, Bradley, Phillippa and Philip Frazier Jr., Andrew Frazier Jr., Andranique, Aaron, Kenyatta Frazier, Canrea Scott and Simone Culmer.
Host of other relatives and friends including: Amanda Moss, Van Bethel, Luther Moss, Dwina Higgs, Dwight Higgs and the entire Superior Maintenance family, Michelle Taylor, Ricarra Bowe, Gardenia Merlander, Shaquille and Shaqcoby Taylor, Alisia Sweeting, Natasha Smith, Tracy Johnson, Kayla Douglas, Phillippa Smith, Wenford Miller and family of Orlando FL, Nellie Hanna and family of Palm Bay, FL, Father Dwight Rolle and the St. Ambrose Family, Dr. Hunt Burrows, Maugerite Simmons and family, Premier Importers Staff, Lucille Ambrister, Jacquelyn McPhee and family.
Relatives and friends may pay their respects at Cedar Crest Funeral Home & Crematorium, Robinson Road and First Street on Friday from 12:00 noon to 6:00p.m and on Saturday at the church from 8:30a.m until service time.