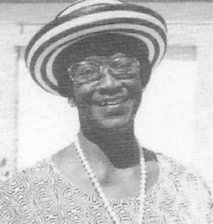 Shirley Mae Conliffe
unknown - unknown
Funeral Service for the Late Shirley Mae Conliffe, 77 years of Twynam Heights, will be held on Thursday July 25th, 2013, 10:30 a.m. at St. Agnes Anglican Church, Baillou Hill Road. Fr. Neil Nairn assisted by other members of the clergy will officiate. Interment will follow in St. Agnes Cemetery, Nassau Street.
Left to mourn this wonderful, kind, generous and loving woman are: Her loving daughter:  Karen Sabrina Conliffe; Special niece, nephew and grandniece: Della and Ivor Stevens and their daughter, Taylor Stevens, of New York; niece: Cheryl Maycock; Aunt: Dolly Smith, Nephews: Patrick, Brian, Dwyane and Rickey Johnson and Greg Simms.  Cousins: Sandra Campbell and family; Sheila Smith of Brooklyn, New York; Alma Thompson and family; and a host of family members and special friends:  including Ed Thompson;  Nelly and Anita Turnquest and family;  Madge Bowleg and family; the  late Luella Watkins' family; Linda Burrows and family;  the Burnside family; Angie Cartwright and family; Gaynell Moss and family; Andrew and Claudia Conliffe;  Grant Conliffe;  Constance Conliffe;  Colbert Conliffe and family;  Casper Conliffe and family; Tressie Lynch and family;  Larry Hunter and family;  Mizpah Bosfield and family; Eloise Smith and family and Allison Booker of New York;
 Special thanks to Jacklyn Adderley;  the staff of the Gynae & Obstetrics ward of PMH; Dr. John Richardson, Dr. Major, Dr. Lorando Knowles, Dr. Phillip Sealy, Dr. J. Penn Knowles, Sr. Yvonne Bain. Sr. Allen, Sr. Mary Thompson, Yvette Butler, Rosalind Gibson, Brunhilda Lightbourn and Ann Braithwaite of PMH; Staff of Operating Theatre of Doctors Hospital, Communities of Fort Fincastle, Yellow Elder Gardens and Twynam Heights;  the staff of The Permanent Mission of the Commonwealth of The Bahamas, New York;  Fr. Nairn and the St. Agnes Church family.
Friends may pay their last respects at Bethel Brothers Morticians, #32 Nassau Street on Wednesday from 10:00 a.m. to 6:00 p.m. and on Thursday at the church from 9:30 a.m. until service time.