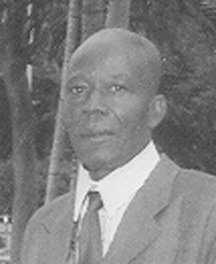 Derrick Arthur Jackson
unknown - unknown
Funeral service for Derrick Arthur Jackson, 69 yrs., a resident of #66 Smithville & formerly of West Morland, Jamaica, will be held at New Bethlehem Baptist Church, Independence Drive, on Saturday at 11:00 a.m. Officiating will be Rev. Dr. Everette J. Brown, assisted by Rev. Tyrone Laing, Rev. Dr. Erold Farquharson & other Ministers of the Gospel. Cremation follows.
Left to carry on his legacy and cherish his memories are: three daughters: Shawnell Dorsette, Jennifer and Shakera Jackson; five sons: Lavardo, Jermaine, Tomika, Antonio and Derek Jackson Jr.; two sisters: Lucille McIntosh and Izetta Davis; three brothers: Keith, Isreal and Ulet Jackson; Grandsons: Justian Hanna, Barry Dorsette Jr., Kendal Munroe Jr., Aziah, Jayden, Ajaro, Derek and Derian Jackson, Lotherio Ferguson, granddaughters: Barrise and Barranell Dorsette, Kaithlyn and Felecia Jackson and Kiara Ferguson; Daughter-in-law: Angel Jackson; Son-in-law: Barry Dorsette Sr.; Numerous nieces including: Sherry McPhee, Shanreese Leadon, Latoya McPhee, Shantia Cooper, Candice, Barrire and Barnek McPhee, Tara Jackson of Hallandale Fla, Ramona and Reneka Newbold, Rishanda Johnson, Terrinique Taylor, Natavia Dean, Rev. Rochelle Moss, Monique, Kashan and WPC 3261 Keva Barton, Tamara Gibson and Winsome McIntosh of Jamaica; Numerous Nephews including: Ricardo Newbold Sr., Barry McPhee Sr., Salathiel Sr., Delano, Tiko and Salathiel Dean Jr., Ricardo Jr., and Barry Jr.; Nephew-in-law: Kevin Cooper Sr., Kendal Leadon and Kenneth Evans Sr.; Numerous grand nieces and nephews including: Tamia, Taliq and Tariq Craig, Kendeece and Kenreese Leadon, Kevin, Shantino and Keano Cooper, Princess and Jordan Gibson, Shaniyah Miller, Latwon Fernander and Kenneth Evans Jr.; Godchild: Kemron Cooper; Special friends: Myrtle Stubbs, Desmond Peters, Smithy, Paul Crawley; Other Friends and Relatives Include: The Brown's & Fergusons' of Springfield Road, Fox Hill, Lotherio Ferguson Sr., Sean Rollins, Hayward Whitfield, Jeffery Rolle, Barry Burrows, Antiquities Monument and Museum, Eddie, Kendal Munroe Sr., Sue Culmer, Tonya Gibson, Margo and Omar Pratt, Cynthia and Bridgette Ambrose, Geraldine Strachan, Janet Evans, Mika Thompson, Candise and Ryan McPhee, Inga Dorsette, Tia and Dion Kemp, Joan Evans, The Porter Family, Lionell Whylly, Sandra Stubbs and Family, Faye Major, Jenie Moxey, Anton Bowleg, Paulette, Freda, Armbrister family, Verdell Bonner, Shanette Brennen, Yola and Jean Claude Jospeh, Sidney Forbes, Annette Williams, Ms. Deal, Anais McKenzie, Kyara Richards, Larue Miller, Sherell, Monique Hall, Tally Maycock, Mary Rolle and Family, Sharon Brennen, Beauthnie Campbell, Maud Smith, Michelle Clarke, Celeste Forbes, Jennis Thompson-White, Alfie and Theresa Bethel, Atlantis Laundry Dept., Cpl 1940 Craig Hanna, 1525 Deon Dixon and Dorothy Deal of Miami, Fl., Hon Fred Mitchell, M.P for Fox Hill, the entire community of Andros Ave., Springfield Road, Smithville.
Frinds may pay their last respects at Demeritte's Funeral Home, Market Street, from 10-6:00 p.m. on Friday & on Saturday at the church from 10:00 a.m. until service time.