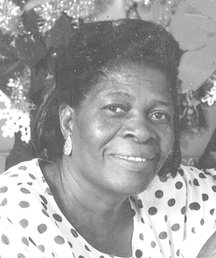 Elizabeth Eve Reckley
unknown - unknown
Funeral service for Elizabeth Eve Reckley, 82 yrs., a resident of #308 Carmichael Road & formerly of Pleasant Bay, Andros, will be held at Carmichael Bible Church, Carmichael Road, on Saturday at 11:00 a.m. Officiating will be Pastor Daniel Simmons, Rev. Alex Thompson & other Ministers of the Gospel. Interment follows in Carmichael Bible Church Cemetery.
Left to cherish her memories are her children: Livingston Bullard, Malachi, Jennie and Craig Reckley, Wayde Wilson, Carmen Wint of Miami Florida, David Reckley and Lovetha Ferguson. 33 grandchildren: Jady , Julie , and Janaine Brown of Miami Fl, Anita and Waydena Wilson, Khadijah, Lanea, Janea, Justine & Alexandria Reckley , Josie, Monique, Deandrea, & Laverta Bullard, Corrinda Jean, Derlinka Pratt and Nadine Bonner Lewis, Dave Brown, Edwin Knowles, Edward, Elton, Otis, Rudy, Carlton and Livingston Bullard Jr. Malachi, Shawn, Sean and Justin Reckley, Valentino and Leonardo Joseph and Walcott Moss. 29 greatgrand children.
2 daughters-in-law: Roslyn Reckley & Diane Bullard; three sisters- in- laws: Kathleen Reckley, Ethelmae Reckley, Louise Reckley; Nieces and Nephews: Kenneth and Quintin Reckley , Sharlene Greene, Jasmine,Theodora, and Theodore Russell, Shayne Stuart, Shanelle Fox and Nadia King, Kristen, Regis, and Austin Thompson, Sheniqua Rolle, Claramine Doresett, Duran Reckley, Samantha, Sebron and Kelvin Clarke, Dorothy Storr, Besty Sherman, Antonella, Michael, Margret and Derek Forbes, Cecilia Sweeting, Donna Sherman, Joy and Barbara Swain, Natasha McGregor, Nelson and Otto Reckley; other Numerous Relatives and Friends, Tommy Sands (cousin) and Family, Alexander Sands (cousin) and Family, Merleen Wallace (cousin) and Family, Arom Sands (cousin) and Family, Burtrum Sands and Family ,Deidree Reckley, Sabrina Thompson and Family, Dave Brown and Family, Antoinette Jean and Family, Jamie Shea Duncanson and Family, Jervis Joseph and Family, The Wilson Family, Ms. Barrow and Family, Lynn Beneby and Family, Alice Lowe and Family, Peter Roker and Family, The Miller Family, The Black and the Barr Family, Victoria Bain and Family , The Clarke family, Gibson Family, The Maynards and Family, The Williams Family, The Mackey and The McPhee Family, The Penn and Pinder Family, The Charlton Family, The Neymore and Kemp Family, the entire Carmichael Bible Church and Carmichael Road family.
Friends may pay their last respects at Demeritte's Funeral Home, Market Street, from 10-6:00 p.m. on Friday & on Saturday at the church from 10:00 a.m. until service time.