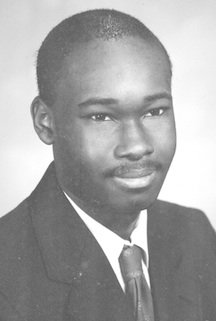 William Jermaine Braynen
unknown - unknown
Funeral service for William Jermaine Braynen 39 yrs., a resident of Starlane Drive, Sunshine Park, will be held at Church of the Resurrection, Resurrection Close, on Saturday at 10:00 a.m. Officiating will be Deacon Peter Rahming. Cremation follows.
Left to cherish his memories are his mother: Donna Wilson of Tampa Fl.; step father:Willie Wilson; grand parents: Norris & Pamela Kerr; brothers: Nathaniel Braynen & Dekoyo Kerr; sister: Tavia Wilson; aunts: Alma Albury, Jessie Kerr, Peggy, Deborah, Sarah, Yogah, Chinea, Deidre, Nickesha, Anishka, Beulahmae, Oprah, Denise Braynen; uncles: Anthony & Phillip Kerr, Alfred Albury, Neville Brennen, Leo, Bradley, William Jr., Austin, Lance, Teddy, Stephan, Lana & Billy Braynen; nieces: Zhane Braynen, Latoya, Davante Kerr; nephews: Akeem King & Nathaniel Braynen Jr.; cousins: Antoine Kerr, Shanto Albury, Antonia, Alex & Asia Kerr; grandaunts: Ena North, Mildred Kemp & Veronica Mackey; other relatives & friends: Allison Mackey, Timolin Thompson, Sandra Smith, Shane Archer, Marcia Bain, Melonie Russell, Sharon McCardy, Simeon Mackey, Tiny, Ted, Leo, Madlyn Mackey, Craig Kemp, Freddie North, Dwigjt Lightbourne, Sterling Mackey, Raynard North & family, Dwayne North & family, Michelle Roker & family, Joya Pennerman & family, Winston, Keith & Kevin Pennerman, Terry Benjamin & family, Patrick Thompson & siblings; Rosemary Bain & family, Paula Cartwright & family, Vanrea Heastie & family, children of Hubert Mackey (deceased), Ms. Dill & family, Maud Kerr, Sister Claire Rolle of St. Martin Convent, Patrick Rolle of Cat Island, Deacon Peter Rahming & family, Vincent Curry Sr. & family, Aubrey & Johnny Tucker & family, Agnes Johnson family Reunion families, Vernon Rolle & family, Bishop Anthony Roker, Fr. Monsignor Culmer, Deacon Samuel Mitchell, Donald Archer & family, Resurrection Church family, Starlane & surrounding community of Sunshine Park, Don Archer & family, Mrs. Hanna & family, Mrs. Brice & family, Chara & family, Aids Association, Jackie Kemp & family, Knights of Columbus, Demeritus Stubbs & family, Sawyer & family, Nygel McCardy, Dorothy Roberts & family, Hailia & family, Vincent Curry Sr., & family, Deacon Peter Rahming Sr. & family, Vanrea Heastie & family. If we fail to mention your name please accept our sincere apology for this oversight.
Friends may pay their last respects at Demeritte's Funeral Home, Market Street, from 10-6:00 p.m. on Friday & on Saturday at the church from 9:00 a.m. until service time.