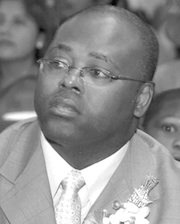 Deangelo Nelson Clyde Hall
unknown - unknown
Funeral Service for Minister Deangelo Nelson Clyde Hall age 38 of Nassau East, who died on February 17th, 2013 will be held on Saturday, March 9th, 2013 at 1:00 p.m. at Church of God of Prophecy, Elizabeth Estates. Officiating will be Bishop Ghaly Swann assisted by Rev. T.G. Morrison and Pastor Wilton Strachan. Interment will follow in Lakeview Cemetery, John F. Kennedy Drive.
LOVING AND CARING MOTHER: RUTHMAE ADDERLEY
FATHER & STEP-MOTHER: ISRAEL JR. & ANGELA HALL
SISTERS: JEWEL McKENZIE & INDEIRA HALL ANDREA FERGUSON, CAROLYN WARD, CHARLENE ADDERLEY.
SISTERS-IN-LAW: SOPHIA ADDERLEY, JACKLYN HALL,
BROTHERS: DON ( JACKIE) HALL, MYCHAL ( NATASHA) TYRONE ADDERLEY
BROTHERS-IN-LAW: ALPHONZA WARD SR., HINSEY MCKENZIE,
GRANDFATHER: ISRAEL N. HALL
GRANDMOTHER: AGNES FERGUSON
AUNTS: MYTIS BENEBY, THELMA AND NAOMI FERGUSON, BRENDA SMITH, LANA & DAVID FORBES, ELMIRA & REV. CALEB EVANS, PEARLINE & AUSTIN MALONE, AGNES & CRESTWELL PRATT
UNCLES: OSBOURNE, GEORGE, ROLAND FERGUSON, EDWIS & SUSAN, ASHTON, WELLINGTON & ALBERTHA, CLEVELAND, SIMEON & DIANA, TIMOTHY & ELAINE, GREGORY & CHERYL, SAMUEL & AMELIA, DANIEL & ALMAIDA, HILGROVE & ELTHAMEASE HALL
GRANDAUNTS: ETTAMAE LLOYD, DR. ANNIEST HAMILTON-RAPPEL, LEONIE & DOROTHY HAMILTON
GRANDUNCLES: DEC. LEVI LLOYD, DR. MARC RAPPEL & DAVID HALL
GREAT-GRANDAUNT: ALVISA FORBES
NIECES: VASHTIE HALL, MYCHANELL & MYQUELL HALL, LACHELLE NASH, TANYA WILLIAMS, CANDICE AND CRYSTAL WARD
NIECES-IN-LAW: SILVER STURRUP
NEPHEWS: CORNELIO, CHAZARO STURRUP, ALPHONZA WARD JR. TARAN AND TAKARIO MCKENZIE, TAVAN WILLIAMS
NEPHEW-IN-LAW: ANDREW NASH
COUSINS: KELSON, ANISHKA, EBONY, EDWIS JR., GREGORY, EDWARD, MELANIE; CLEO, ALEXANDER; SHANIKA, CRYSTAL; JEROME, TINA, TONY, STEPHON, SALLY, KEVIN; DEONDRAE, DARIUS, ERIN, TIA, KERA; DEMETRIUS; TAMARA, JESSICA, ANISHKA, QUAMBIE, QUENTIN, JOHNATHAN,TARAN, JOANNA, TREMMIE, KIMBERLEY, DWAYNE, JOSHUA, ELVIS, BIANCA, BERNALDO, BENNETT, GARETH, JOEL, RHODA, ROBERT, STANLEY; LISA
OTHER RELATIVES INCLUDING: ISILDA, RUEBEN & RICHARD HALL & FAMILY; EUSTACE OUTTEN & FAMILY; REV. NEWTON, HOWARD, TIMOTHY & LIVINGSTON HAMILTON & THEIR FAMILIES; ARTHUR, ROYAL JR., JOSEPH, KEVIN & REV. DR. ROLAND HAMILTON; REV. HELEN SMITH, CYNTHIA RAHMING, JANET COLEBROOKE, REV. DAPHNE HAMILTON, GWENDOLYN CLAUDE & APHRODITE COOPER & THEIR FAMILIES; ANTHONY & ARNOLD HAMILTON; ALTHEA HAMILTON-GRANT, ANNES HAMILTON-ARMBRISTER, NICOLA & NERISSA HAMILTON, DUANE HAMILTON-WILLIAMS & THEIR FAMILIES; NATHANIEL RAPPEL; MILLICENT & MILTON RAWLE & FAMILY; SHERLOCK HAMILTON, BETSY BOWE, SHEILA ALBURY, ELMENA, OTHNIEL & THELMA LIGHTBOURNE & THEIR FAMILIES, FELIX WALKINE, WHITNEY & DONNA HAMILTON, EDWARD & MARY SWEETING, ALTHEA JONES, KOSYGEN FORBES, DOROTHY FORBES-BUTLER; NINA PHILLIPS, ANNES ROLLE; GLADYS WILLIAMS-SMITH, LOUISE WILLIAMS-CLARKE, CLEAVER & REV. BENJAMIN WILLIAMS & THEIR FAMILIES; LORRAINE PHILLIPS-MOSS, REV. SHIRLEY TAYLOR-SMITH, ALICIA DEAN, FLORETA GIBBS, WILLAMAE GREEN, WHITLEEN FORBES, DAVID HALL, GEORGE & ESTHER HALL & THEIR FAMILIES. HERBERT FORBES, MILDRED JOHNSON, CAROL BONAMY, MARION WILLIAMS, ALICE HALL-LIGHTBOURNE, CAROLYN HALL, SANDRA HALL-GRAY, LORRAINE MILLER, SHIRLEY BONAMY, VERONICA HAMILTON, DAPHANE SIMMONS, McARTHUR, MARGARET & ETHLYN MAJOR, HARTLYN STRACHAN, ALBERT HALL & THEIR FAMILIES. HARRIETTE, GARY & PAUL S. OUTTEN JR.; HILTON & VIOLA TAYLOR & THEIR FAMILIES. BETTY HEPBURN, JUDY & CECIL BOYD, WENDY, PATRICIA & FREDDY MORLEY, DELORES BUTLER, RUDOLPH FERGUSON, REV. EDDISON ROLLE, SANDRA & GRANVILLE BUTLER, MARY PENN-KNOWLES & THEIR FAMILIES
GOD-SISTERS & BROTHERS: NICOLA HAMILTON, LATOYA WILLIAMS, D'AUTRA NEWBOLD, DR. WINSTON PHILLIPS, GARVIN WILLIAMS & THEIR FAMILIES
HIGH SCHOOL, COLLEGE & UNIVERSITY FRIENDS: DR. & MRS. JUDSON ENEAS & THE FOUNDING MEMBERS OF THE GENTLEMEN'S CLUB, JOHN & HANNAH GRAY & THE GRAY'S SCHOOL OF MUSIC FAMILY, REV. & MRS. WRIGHT OF JERUSALEM MISSIONARY BAPTIST CHURCH, TALLAHASSEE, FLORIDA (FORMER PASTOR AT FAMU), MARA, MADRA, MARGE & DON BUTLER; CAROL CURRY, GIA STYLES, KATHERINE FRAZIER, SAM BROWN, DR. JOHN McCARTNEY JR., HI BYE, NOVA TAYLOR, ST. AUGUSTINE'S COLLEGE (SAC) CLASS OF 1992: MIGUEL FERGUSON, CONROY SMITH "ROY" (ALSO FORMER ROOMMATE AT BETHUNE COOKMAN), JEROME SMITH "JB" (SOFTBALL TEAMMATE), NEKISHA ROLLE 'KEISHA" (ALSO CO-WORKER – MOE IT DEPARTMENT), ABUBAKARI JOSEY "ABU", CHAUNCEY TYNES "WILBERFORCE", TREVELL MILLER, KITTIBONI ROLLE-ADDERLEY "KITTI" & JAYSON ADDERLEY "J" (SOFTBALL PITCHER), KARIN LOCKHART, HEATHER ALBURY, HILLARY MONABOYD-ALBURY, JULIET HOLMES, ERICA MORRIS, JACQUELINE DERYCKERE, RENANDO FAWKES, DONNAVEO SHERMAN, RYAN FORBES, SHUNDAL RODGERS, SHERENE RIGBY, PATRYSE ROLLE, DARLEEN BARTLETT, MANEICA PRATT, JOBINA BAIN, VARDO STORR, YVETTE MISSICK, CHRISTA MINNS, JOEY FERGUSON, STEPHEN BENEBY, LARS MINNS, VITO & KRISTI THOMPSON, SCHEMELL WEECH, MARIA LAMPKIN-WILLIAMS, GERMAINE DEMERITTE, KIRA FORBES-BROOKS, IRENE PINTARD, NYOKA GLINTON, MICHELLE REID, JOSEPHINE TURNER, HOWIN PINDER, CHANEL SWAIN, LATOYA BARNES "TOYA", KENDRA FRANCIS-BROWN (ALSO AT FAMU), JOHN DILLET, ANTHONY WELLS "WOLFE" (SOFTBALL TEAMMETE AT SAC), TAMICO GILBERT, BIANCA WATSON-MALCOLM, BARRON ADDERLEY, JERMAINE BLACK, ELVIS STRAPP, DENEIL WILLIAMSON, TITO MOSS, DAWN BUTLER-NAIRN, CHRISTINA BULLARD, CHARLOTTE AHWAH, KEITH GOMEZ, GINO LONGLEY, MARCIA NEWLAND, TERESA QUANT, YOLANDA URIZ, MICHEAL AJERO, DEON HAMILTON, TIFFANY COLLIE, SHOBHA JAGADEESH, RAYMOND SAUNDERS, CHANEL SWAIN, ANDY WILLIAMS, TREVOR CAMPBELL, SARON COX, KAMARI CHARLTON (FSU), NIKIMBA JOHNSON, ANGELO DILLET "ALI"(SOCCER, TRACK & SOFTBALL TEAM), KYRA TINKER, STEVEN DELANCEY, EUGENE DELANCEY "PACO", RAVENIA ROBERTS-HANNA, JULIAN MAJOR "JULES", EDNAL MAYNARD, "EDDIE", JERMAINE BLACK "BLACK", NAZMOON PINDER "NAZZI", MELISSA WRIGHT, PATRICK & YVETTE FERGUSON "PATTI" (ALSO AT FAMU), ALEXIA EDGECOMBE, TELSA MILLER, KIMILY GLOVER. FAMU: ANDREW & JOY DEAN, JAWARA JENKINS "JAY" (FORMER ROOMMATE), YASMIN FRANCIS "YAZZI", KEVIN TINKER, "KEVVY", MIKE NEIGHBOUR, ALRON FERGUSON "AL", TRACY EVANS, WAYNE CLARKE, JAMAAL MOSS
THE ZION BAPTIST CHURCH FAMILY, EAST & SHIRLEY STS., MT. MORIAH BAPTIST CHURCH FAMILY, FARRINGTON ROAD, BISHOP GHALY SWANN AND FAMILY, PASTOR DWIGHT FERGUSON AND FAMILY. PASTOR FRANKLY BOWE AND FAMILY, THECHURCH OF GOD OF PROPHECY ELISABETH ESTATES, OVERSEER HELEN MCPHEE AND THE AGAPE FAMILY. THE MANAGEMENT AND STAFF OF SHERATON NASSAU BEACH RESORT, DOCTORS HOSPITAL, MINISTRY OF EDUCATION, LEARNING RESOURCES SPECIAL PROJECTS, MRS NEWTON AND FAMILY, COMFORT SUITES, COLINA INSURANCE, MR DON PRATT AND FAMILY, MS. SMITH AND FAMILY, ERIC SMITH AND FAMILY, MS. CARVETTA COX AND FAMILY, MS. BRENDA BASTIAN AND FAMILY, MS CARVETTA COX AND FAMILY, MS BRENDA BASTIAN AND FAMILY, REV. T.G. MORRISON AND FAMILY, WILTON STRACHAN, THE HALL, HAMILTON, FORBES, OUTTEN, GREEN, LIGHTBOURNE, ROLLE, MOSS, WILLIAMS, DEAN, SMITH, PHILLIPS, BOSTWICK, CLARKE, EDWARDS, COLLIE, ROKER, JOHNSON, HENDFIELD, EWARDS AND COX FAMILIES. THE FAMILIES OF THE LATE: TIMOTHY FORBES, NEW YORK; PHILIP & WINIFRED FORBES, LESLIE HAMILTON, NOLA MUSGROVE, ISABELLE WALKINE, MARY SYMONETTE, ANNIE & CLEMINE MUSGROVE, INA & PERCY HALL, MARY SIMMONS, ROBERT & PETER HALL, IVY HAMILTON-STUBBS, CONSTANCE HAMILTON-COOPER, EUGENE & MYRTIS HAMILTON & INEZ HAMILTON.
Viewing will be held in the Legacy Suite at Vaughn O. Jones Memorial Center, Mt. Royal Ave. & Talbot Street on Friday from 10:00 a.m. to 6:00 p.m. and at the church on Saturday from 11:30 a.m. until service time.