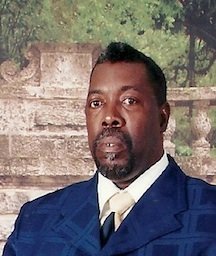 Tommy Dames
unknown - unknown
Funeral Service for Mr. Tommy Dames age 57 of Moores Island, who died on April 23rd, 2013, will be held on Saturday, May 11th, 2013 at 11:00 a.m. Zion Baptist Church, Moores Island, Abaco. Officiating will be Pastor Nixon Simms assisted by Pastor Preston Knowles, Pastor Anthony Williams and Rev. Ishmael Williams. Interment will follow in the Public Cemetery Abaco, Bahamas.
He is survived by His children: Noel and Themeka Dames;Adopted children: Prestina Gibson and Myah Feaster ;Brothers and Sisters: Milton and Emily Dames, Robert Dames, Prescola Swain, Beverly and David Dean Sr., Netalie and Rodney Davis; Mother-in-law: Wilamae Feaster; Brothers-in-law: Alvin Swain, Valentino, Jeffery, Basil, James, and Mario Feaster; Sisters-in-law: Deborah, Dale, Sharon, Vangie, Stephanie and Valerie Feaster, and Florence Gibson; Grandchildren: Kashrara, Nelson, Timarro, Megan St. Claude Dames; Nieces and Nephews: Millie Knowles, Paula and Maud Davis, Linda Gibson, Tracey Dean, Joan Stuart, Roddeana Davis, Patrice and Gregory; Munroe, Elizabeth and Oral Stuart, Shavanda and Peterson Stuart ,Sinclair and Nicole Swain, Cardinal and Valerie Rolle, Kirk and Shericka Rolle, Felix and Valeria Burrows, Howard and Norma Burrows, Maxwell and Claudia Burrows, Clement and Lillian Burrows, Derick and Jennifer Dames, Oscar and Rachelle Dames, Alvin Jr. and Lashan Swain, Nould and Roddeno Davis, Delvin Cooper, Darren Swain and Timothy McBride, Crystal Swain, Lyndon Swain and Tario Swain. Grand Nieces and Nephews: Sonia, Desrah, Patricia, Renae, Roswell, Lamont, Manor, Waltino, Khadijah, Sharina, Gabrielle, Claudia, Gaynell, Aleah, Shantel, Elvisa, Kisnae, Latonya, Latesha, Shammah, Oscar Jr., Latario, Cardinal Jr., Cardina, Cardesha, Kirk Jr., Brittany, Terrance, Norelle, Patrell, Ashley, Milton, Tajay, Maxine, Tre', Maxwell Jr., Clementino, Clenique, Zion, Lynden, Latario, Crystal, Olivia, Delvin Jr., Matao, Relatives and Friends: Elmetta Minns, Rosetta Babbs, Philip Davis, Harry and Merilyn Davis, Remilda Cornish, Louise, Ettamae & Kathleen Reckley, Margaret Jones, Inez Stuart, Joseph , Edmond, Ruth & Betty Dames, Margaret Gibson, Jessimae Ferguson, Laura, Cecila, Desiree, Mervin, Ike, Rone & Steven Dames, Jonathan Dean & Family, Audrey Hield & Family, Enid & Family Hield, Pastor Preston Knowles & Family, Wendell & Sherry Stuart, Angie Dawkins, Roland Knowles, Julie Davis & Family, Sonamae Davis & Family, Josette Thompson, Thomas Hield & Family, Oswald Stuart & Family, Ettamae Swain, Nadean & Leo McBride, Annie Cartwright, Daniel Davis & Family, Pastor Nixon Nixon Simms Jr. & Zion Baptist Family, Greater Bethel Church, St. Matthew Baptist Church, Soul Seeking Ministries, World Wide Church of God, Moore's Island Local Government Council & Administrators, Water & Sewerage Corporation- Abaco District, Morris Bowe of Sandy Point, the entire Community of Moore's Island, Sandy Point, And Murphy Town.
Viewing will be held in the Moores Island Society Hall on Friday from 3:00 p.m. to 7:00 p.m. and at the church on Saturday from 10:00 a.m. until service time.