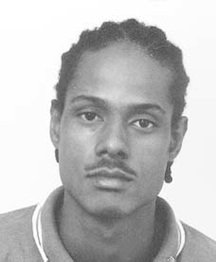 Delvin Alexis White
unknown - unknown
Funeral service for Delvin Alexis White, 32 yrs., a resident of Seymour Street, will be held at Holy Family Roman Catholic Church, Robinson Road on Saturday at 11:00 a.m. Officiating will be Fr. Thomas Brislin. Interment follows in Woodlawn Gardens, Soldier Road.
He is survived by: his father, Rudolph White, 2 sisters Nicolette& Nicarah White, grandmother: Inez Gray, 13 aunts, Sandra & Vaughn Miller, Angela & Lorraine White, Deidre & Derek Richardson, Ernestine & Marcus Moss, Denise Gilbert, Jane & Richard Jackson, Charlene ,Tania & Marie Gray, Dazelle & Michael Johnson, Karen & Francis Traveso , Demecca & Vaughn Musgrove, 6 uncles, Glen & Violet Gray, Don, Kevin, Ashley Gray, Charles &Karen and Lorenzo Woodside. Especially 2 granduncles, Uncle Lewis "Lou" White and Uncle Wilfred "Will" Sands (3) two grandaunts- Jacqueline Richardson and Rosemary Delancy & Florinda Bastian. Family members-Adrian White, Dr. Austin, Kay and Carol Davis,. The Sands Beer family, Pa-B's Club family and crew, Lutra Sunshine, special friend Jackie Johnson, Cheryl Fernander, Connie, Gregory Cash, Doc Thompson, Yvonne Lewis, Grace Wallace, Neil Lassiter, Patsy Knowles, Leopol Wright. Numerous cousins: Lamont, Javon, Herbie, Shanria, Derecka, Derek Jr., D'Andrea, Victoria, Ivanna, Kirstie, Lester, Joan, Glennette, Torree, Atrayo, DeVaughn, Kyle, Sage, Ebony, Danielle, Gareth, Chad, Donovan, Wellington, Trevaughn, Cruz, Rayne, Aiden, Morgan, Eagan, Hayven, Asja, Talise, Tylen, Deliah, Ayanna, Milan. Godmother: Norman Dean and a host of other relatives and friends including Peter Grist, Elspeth Jackson, Rogjette Swain.
Friends may pay their last respects at Demeritte's Funeral Home, Market Street, from 10-6:00 p.m. on Friday & on Saturday at the church from 10:00 a.m. until service time.