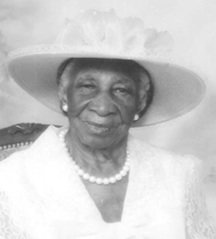 Emmie Eleanor Stubbs
unknown - unknown
Funeral Service for Mrs. Emmie Eleanor Stubbs, 94 years of Sea Beach Estates and formerly of Dumfries, Cat Island, will be held on Saturday May 25th, 2013, 11:00 a.m. at Remnant Tabernacle of Praise, Carmichael Road. Rev. Troy Ambrose assisted by Ministers Edmund Stubbs and Wendal Pratt and other Deacons will officiate. Interment will follow in Woodlawn Memorial Gardens, Soldier Road.
She was pre-deceased by her husband: Rev. Aaron Alfred Stubbs III. Cherished memories linger in the hearts of her Six (6) daughters: Iris Mackey, Virginia Brennen, Salomie Stubbs, Precila Stubbs, Roselda Stubbs and Alice Darville; Two (2) sons: Hessley Stubbs and Ezekiel Stubbs; Daughters-in-law: Olga Stubbs and Joycelyn Stubbs; Sons-in-law: Edmund Mackey, Samuel Brennen and Deacon Anthony Darville; Twenty-six (26) Grand children: Hyacinth, Agatha, Cleola, Adrian, Julian, Carlos, Anthony, Craig, Cheryl, Sheldon, Ian, Kendrick, Sonia, Janelle, Jamaal, Chrislyn, Zekia, Alden, Javano, Livingston Jr. Lindsay, Kyron, Kashon, Antone, Rashan and Georgina; Twenty-seven (27) Great Grandchildren: Rashanda, Kriston, Kristonia, Cherell, Ashley, Kristen, Kenrick, Khori, Trinity, Riquez, J-Zara, Camille, Simone, Brandon, Brittany, Candi, Sasha, Jaynerio, Lynell, Tonya, Enrique, Emelio, Dominique, Kyle, Dominick, Faith and Jade and Brianna; Eight (8) Great Great Grandchildren: Jaylyn, Danielle, Thalia, Danae, Amelia, Saylin, Bryce and Kirstner; In Laws: Patricia, Stacy, Jennifer and Monique Stubbs, Indra Gibson, Deangelo Clarke, Aaaron Glinton and WilliamTucker; Nieces: Lillian, Jacquelyn, Andrea, Lenora Archer, Sheila, Donna, Olga, Eva and their families; Lorna, Joyce, Lois, Maxine Queen, Theresa, Bonny, of New York, Washington and Fort Pierce, USA.; Nephews: Selvyn, Everette, Stafford, Eugene, Garnette, Autrey and their families; and William (Bill) of North Carolina and his family. Other relatives and friends: Donald Darville, Minister, Edmund Stubbs, Remnant Tabernacle of Praise. Rev. Troy Ambrose, Pastor, Ebenezer Baptist Church and the entire Ambrose Family, including the Church and Community Families of Dumfries and Arthur's Town, Cat Island. Livingston and Emerald Farrington, Patricia Roundtree, Isaac Hepburn, Dorcas Stubbs, Angela Brown, Eris Moncur, Paul King, Marie Major, Paula Romer, Ella Larrimore and their families; the extended Stubbs, Rolle, Armbrister, Livingstone, Farrington, Smith, King and Newbold Families.
Friends may pay their last respects at Bethel Brothers Morticians, #32 Nassau Street on Friday from 10:00 a.m. to 6:00 p.m. and on Saturday at the church from 10:00 a.m. until service time.