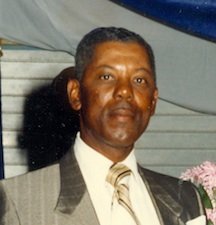 Robert "Old Bobby" Melvin Scavella II
unknown - unknown
Last rites for Robert 'Old Bobby' Melvin Scavella II aged 75 of Hatchet Bay, Eleuthera and formerly of Gregory Town, Eleuthera will be held on Saturday at 11:00 A.M. at St. Catherine's Catholic Church, Hatchet Bay, Eleuthera. Officiating will be Msgr. Fr. John Johnson.
Interment in Gregory Town, Public Cemetery.
He is survived by his wife: Florence; 9 children – Birbb, Kennedy, Audrea, Vannessa, Suzette, Tyrone, A'lice, Perry, and Robbi; 43 Grandchildren – Birtonya, BJ, Roberts, Kenney, Kevan, Deval & Karen, Kennedy Jr, Shaun & Melanie, Iteka, Treico, Keisha, Mitizi, Alvardo, Levardo, Lil J, Willisha, Tyrone Jr, Trivette, Trinette, Ashley, Vante, Jermaine, Milton, Jefferson J, Ted, Robert, Shalese, Jefferson S, Steven, Lestina, Alleeon, Keem, Pete, Raymond, Raquel, David Jr., Dawson, Ferell, Gavin, Tamica, Jodie; 36 Great grandchildren; 3 brothers – Darren, Charles, Walter Scavella; 6 sisters – Ramona Rolle, Bessie Scavella, Sandra Forbes, Freda Cleare, Annie and Carolyn Scavella; 5 aunts – Yvonne, Naomi, Elaine, Alwhyne, Myrtle Scavella;
6 uncles – Ronald, James, Hartman, Pastor Neville and Carl Scavella, Rollins Lightbourne;
25 nephews – Darren Jr., Reynold, Hayward, Domonte, Whitney, Omar, Arthur, Deconte, Treico, Quintel, Quinton, CJ, Keno, Lavor, Sharrad, Quincy, George, Allan Jr, Andrew, Charles, Drexelle, Kim, Lenis, Alex and Dwayne; 32 nieces – Pastor Cindy, Brenette, Tracy, Shatara, Saretta, Joan, Samantha, Claudia, Lashonta, Olive, Lenore, Vannessa, Roney, Najane, Michalia, Michela, Cornell, Quintell, Bridgette, Jazelle, Christia, Cherene, Cherece, Patty, Denzie, Sonya, Tracy, Zhryvette, Julie, Jan, Tabatha, and Candy; 4 daughters in law -,Mel, Sheba, Rochelle and Marguarite Scavella; 4 brothers in law – Lundy Rolle, Bursil Neely, Rev. Eric Johnson and Cladius Bethel; 5 sisters in law – Gloria and Cindy Scavella, Cheryl Johnson, Yvonne Eberhert, Shirleymae Bethel; Godchild: Harvey Johnson; Cousins & family – Pastor Paul, Clifford Butch, Hylene & Ellis, Clinton, Sharon, Leola, Velsheda, Gaynell, Katie, Carmen, Marsha, Carl Jr., Godfrey, Wilda, Dot, Kirk, Ed, Cecil, Berneice, Frizzie, Patrice, Kenneth, Elvira, Raymond, James, Ruth, Mack, George, Freda, J Anthony, Joanne, Gene, Arlington, Levada, Sherry, Gretchen, Wanda, Cranston, Blair, Robin, Audwen, Tanya, Lavern, Adrian, Glen, Stanley, Pat, Julie, Pete, Robert Monty, Dale, Sheila, Dave, Allan, Chris, Colin, Cletes, Pam, Dianne, Earn, Nolan, Pochino, Peggy, Marilyn, Mattie, Emerline, Leslie, Neville, James, Danny, Sherwin, David, and Jean; Other relatives – the family of the late Leonard, Isaac and Winifred Lightbourne, Bernis Pinder & Family, Robert Pinder & family, Val Wraing & family, the family of the late Rose Wood, Carl Pinder & family, Coral Pinder, Arnette Smith & family, Willie Knowles & family, Judy & Spurgeon Johnson and family, Berthamae & family, Nurse Hassana & family, the family of the late Lewis C. Pinder, Tiny Lewis, Will Rice Pinder, the family of the late Eunicka Gibson & family, the Wood, Thompson, Johnson families of Gregory Town and the Scavella & McKinney families of Landrail Point Crooked Island;
Lifelong friends – Rev. Hon Philip M. Bethel & family, Mr. Henry Wood, Mr. Joshua Culmer,
Mr. Millard Bethel, Mr. Garfield Deal, Mr. Winston Churchill, Mr. Mark Thompson and family and Mr. Ricky Johnson, Administrator Margaret Symonette, Sophiedell Turnquest, and Mr. James Rolle and Family; Others include but not limited to – the staff of the Governor's Harbour & Hatchet Bay Public Health Clinics including Dr. Manssa, Nurses Priscilla, Monique and Bernadette. The staff at the Ministry of Public Works, BEC, Bahamas Air, Family Guardian, The communities of Gregory Town, Hatchet Bay, James Cistern, Governor's Harbour, Lower Bogue, Bluff and Harbour Island including the Catholic Churches, the Gregory Town Brass Band and the Fraternal orders of Eleuthera.
The body will repose at Kurtiss Memorial Mortuary, Robinson Road and Fifth Street on Thursday from 1:00 P.M. until 6:00 P.M. and at the church in Hatchet Bay on Friday from 6:00 P.M. until service time on Saturday.