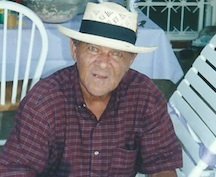 Edgar Knowles
unknown - unknown
Funeral Service for Edgar Knowles, age 86 years, of Mangrove Bush, Long Island, will be held on Saturday November 2nd, 2013 at 11:00 a.m. at St. John's Anglican, Buckley's Long Island. Officiating will be Canon Harry Ward. Interment will follow in St. John's Cemetery, Buckley's, Long Island.
Left to cherish his memories are his children and their spouses: Joyce and Michael Wells, Remona Cartwright, Helen and Vidmer Villi, Arlene Knowles, Patrice and Ray Smith, Derek and Judy Knowles, Deon and Mark Cartwright, Christopher Knowles, Karen and Leo Betschart, Clyde and Lydia Knowles, Keith and Brittany Knowles; his grandchildren: Anthony and Heather Wells, Carla and Enrico Burrows, Tiffany and Ryan Knowles, Ramon and Michelle Cartwright, Marco and Lauren Villi, Mico Villi, Rico, Indira, Brianna and Randy Smith, Macy, Darcy and Kathia Knowles, Davon, Miguel and Cameron Cartwright, Lateira, Brett and Jessica Knowles, Nicolas, Alex and Lucas Betschart, Lindsey, Courtney, Abrianna and Damia Knowles; great grandchildren: Jacob and Eliya Wells, Kaitlyn and Hayley Burrows, Paige Knowles, Cody and Connor Cartwright, Gabriel Smith, Selena Cartwright and Christopher Major; one brother: Ivan Knowles; sisters-in-law: Iris, Jane, Etoile, Rosie and Jenny Knowles, Ovina, Pearl and Ella Cartwright and Predensa Hailey; brothers-in-law: Urban (Strawberry), John and Sammy Knowles and Errol Cartwright; numerous nieces and nephews and a host of other relatives and friends including: Percy Knowles, Christian Villi, TC Cartwright, Gaston, Reverend Dr. Kendal and Sinymae Capron, Katherine Capron and the staff of the Good Samaritan Home, the Doctors and Nurses of the Princess Margaret Hospital, Dr. Fiona Lincoln and her team of Nurses at the David Simms Health Clinic including: Nurse Madge Turnquest, Nurse Smith, Nurse Pearline Burrows, Nurse Albury, Nurse Armbrister, Nurse Spence, Sister Bowe, Sister Johnson, Regina Minnis, Millie Taylor, Ovina Cartwright and Deborah Major, the entire community of Mangrove Bush, Long Island, the Knowles and Cartwright families, Miriam Darville, Monica Knowles, Dr. Paul Ramphal, Dr. Phyllis Darville, the children of the late John and Miriam Knowles.
Friends may pay their last respects at Butlers' Funeral Homes and Crematorium, Ernest and York Streets on Thursday October 31st, 2013 from 1:00 p.m. to 4:30 p.m. and on Friday November 1st, 2013 from 10:30 a.m. to 12:00 noon. At the church in Buckley's Long Island on Friday November 1st, 2013 from 5:30 p.m. until service time on Saturday November 2nd, 2013.