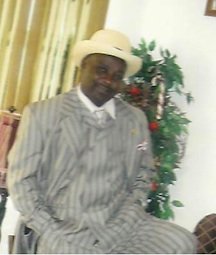 Lanty Murray
unknown - unknown
Funeral Service for the late Lanty Murray age 49 years of Lilac Ave, Garden Hills #2 will be held on Saturday November 2 2013 at Bethlehem Holiness Faith Mission Church, Strachan Subdivison at 11:00a.m. Officiating will be Rev. Derek Maycock assisted by Bishop Sherwin Smith. Interment will follow in Lakeview Memorial Garden, J. F. Kennedy Drive.
Left to cherish fond memories is His loving and devoted wife Altymease Murray Mother: Gloria Murray- Jones Two sisters: Cecilyn and Joanna Murray; Three brothers: Stepton, Carrington and Hadden Murray; Five uncles: Frank, Harold, and Eggy Murray, Trainey Thomas and Rev Sherwin Smith; Three aunts: Cassy, Dorothy and Brenetha Smith13 nieces, 9 nephews, 2 great grand -nieces and 2 great- grand nephews; Brothers in laws: including Wendell and Cedric Deveaux, and Kermit Mackey; Sisters in lawsincluding Venice Collie, Beryl Ferguson, Linda Rahming , CelsiaParroti, Angeline Moss, Mae Carey, and Althea Moss; Cousins: Babb and Keisha Ellis; Numerous relatives and friends including: Rev Dereck and Monique Maycock and the Bethlehem Holiness Faith Mission Family, Pastor Burton and Alfreda Fox and family, Ella Anderson and Family, Geneieve Burrows and family Keith Stubbs and family, Kimberly Stubbs, Genius Stubbs, Iniskha Lloyd and family, Patrice Sears and family, The Moss family, The Collie Family, The Smith family, Leslie Bain and family, Vernice Brown and family, Marshall Smith and family Hoperton,Kenneth(Nabbie) Rolle, Toney, Sean Wilson,Ramourne Barracks, Mr. Isaac Johnson, The Mitchells Family: Shane, Shawn Stephen, Susan Robinson and family, Paul, Alfreda Forbes, Wellington. The Management and Staff of Henry F.Storrs Electric, Sullivan Construction, Diann Ferguson and family, Beverly and Keisha Laing, The Deveaux Family, Diann Stubbs and family, the community of lilac Ave Gardens Hills #2. Neighbor the Majors and the Walkers, the community of Westmore Land, the Rose family, Veronica Rigby and Family.Serlina garden, DarlaneMcfarlane, Deborah Cartwright, Selena Lampkin, Leandra Cartwright, Audley Morally, Alice Jones, Tony Gary Miller, Rayleen Joseph, Fredrika Jones, Jonathan Fowler, Bernice, Lenny Felicia Collie and Jabar .
Viewing will be held in the Orchard Suite at Evergreen Mortuary, located on Collins Ave on Friday from 10:00a.m. – 6:00p.m. and again at the church on Saturday from 10:00a.m. until service time.