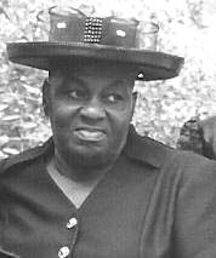 Wealthea Francita Whymns
unknown - unknown
Funeral service for Wealthea Francita Whymns, age 74 of Sea Breeze Lane, and formerly of Rolleville Exuma will be held on Saturday, November 2nd , 2013 at 10:00 a.m. at Central Baptist Church, Jean Street, off Prince Charles. Officiating will be Rev. Alfred Brown, assisted by other Ministers of the Gospel. Interment will follow in Lakeview Memorial Gardens Cemetery, J.F.K. Drive.
Her fond precious memories will be forever cherished by her: Two daughters: Leanna Whymns and Virginie Harris; Five sons: Perry, Stephen Sr., Roderick, Shurland and Edward Whymns; Thirteen grandchildren: Aretha, Philencie, Melinda, Allison, Quitell, Franlee, Tina, Deidre, Delricka, Dennis, Robert II, Stephen and Shontor; Twenty Three Great grandchildren: Sharita, Geno, Ryesha, Treyvar, Tracey, Trey, Trustin, Dennis Jr., KC, Kevinique, Jerimisha, Robanique, Robanesha, Frandesha, Bandy Jr., Anthon, Ethan, Frankly, Andrell, Andrewnique, Samiya And Kadin; Two Great-Great grandchildren: Valtinique Simmons and Shawnesha Ferguson; Two sisters: Irene Mckenize and Victoria Johnson; Two Brothers-in-law: Ezekiel Johnson, John Whymns; Three Daughters-in-law: Gidget, Delores and Sheryl Whymns; Numerous nieces and nephews including: Nadean, Glerease, Fanny, Barbara, Christopher, Franklyn, Nickie and Clarence; Numerous Grand nieces and nephews; Aunt Mary of Rolleville's Exuma; Numerous Cousins including: Ralph, Gerald and Frankly Bowe, Selene Johnson, Estella Knowles, Willamae and Whitney Rolle, Terry and Cephes Bowe, Francita Cooper, Ruby Bowe, Yvonne Bowe- Rolle, Dereck Bowe, Monique Rolle, Gladstone Ricardo Dennis, Sheffrey, Cyril, Ian Rolle, Michelle Sands, Lillian, Cherisse Washington, Pastor H.A. Roach and a host of other relatives and friends including: The family of the late Leon Roach, Valban Roach and family, Alicia Rahming and family The Ferguson family, Hubert Taylor, Simmons, The Woodside and Roach family, Marina Hepburn and family, Pa Major and family, Christine Barr, The McKenzie family, Tasha family, Elaine, G.B, Antonio Cox, Keanje, Sandra, Sue, Lanny, Astrid, Rosemary, Tiffany Bowe and family, The Rolle family, The Wells family, The Mount Pleasant Village family, The Claridge Road family, The Claridge Primary family, Staff of the Ministry of Education Concession Carts, The Elizabeth Estate family, Staff of John Bull Perfume Department, Sandra Rose and family, The Strachan family and many others to numerous to mention.
The body will repose in the Blessed Redeemer Chapel at Ferguson's Funeral Directors, 7th Terrace Collins Avenue, on Friday from 10:00a.m. - 5: 00 p.m. and at the church on Saturday from 9:00 a.m. until service time.