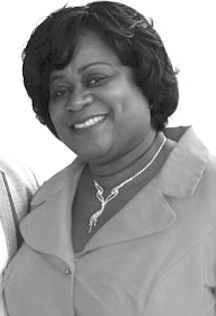 Nicole Sabrina Davis-Evans
unknown - unknown
Funeral Service for the Late Nicole Sabrina Davis-Evans, 54 years of #38 Premier Avenue, Blue Hill Heights, will be held on Saturday December 20th, 2014, 10:30 a.m. at Church of God Convention Centre, Joe Farrington Road. Rev. Cecil Newbold assisted by Rev. Dr. Livingston Malcolm and Bishop Dr. Dereck Brown will officiate. Interment will follow in Lakeview Memorial Gardens & Mausoleums, John F. Kennedy Drive & Gladstone Road.
She is survived by her Spouse: Bernard R. Evans; Children: Bernard Jr., Brittany, Branishka, Glenard, Denario (Rashan), and Krystoff; Grandchild: Ahmad; Sisters: Delores, Marva, Dorothy, Betty S., Marina, Betty N., Delores (New York), Kathy (Detroit), Carolyn, Jacqueline, Mavis, Melverne, Carmel, Olga, Joy S., JoyAnne, Margarita, Sharon, Pamela and Judith; Brothers: Gordon, Cleveland, Michael, Riccardo, Johnnie, Sidney, Chris, Basil and Perry Heastie; Nieces: Monique, Gabrielle Nicole, Sheretta, Ria-Monet, Vernae, Raquel, Shereen, Keisha, Gia, Jessica, Sascha, Darneka, Theora, Meaghan, Samantha, Gabrielle, Danielle, Kenria, Ricquelle, Kiesha, T'shura and D'nae; Nephews: Trevor (Sasha), Theodore (Bernetta), Terell (Ardene), Riccardo Jr., Renaldo, Marcus(Ebony), Taurean, Tevaughn, Kevin, Dwight, Burke, Owen, Jason, Kirk, Antoine, Reaghan, Dahres, Samuel, Maxwell, Tarique, Dallas, Dale Jr., Lavardo and Shieko; Parents-in-Law: Bernard and Gloria Evans; Sisters-In-Law: Joyce, Ethelyn, Almeta, Carvette, Valarie, Yvonne, Darnell, Ruby, Kimley, Phoenix, Dorinda, Lettianne, Catherine, Tanya, Bernadette, Bernice, Berndise, Berneya, Natasha and Phera; Brothers-In-Law: Washington, Teddy, James, Wendall, Kendall, Dale, Don, Julian, Lorenzo and Laverick; Uncles-in-Law: Yorick Evans, Prince (Zilpha) and family, Randolph, Junior (Alice) and families; Aunts-in-Law: Prescola, Rosalie, Barbara, Brandhilda
Grand-aunts: Minerva Pratt and family, Sylvia Mackey and family, Sunken and family, Francita and family, Doris Burrows and families; Grand Uncle: Lawrence Rolle; Other relatives and friends: Sonia Lloyd, Ben Rahming and family, Flora Sawyer and family, Patricia Francis and family, Perez Hall and family, Tamara Desmangles and family, Dwight Ferguson and family, Eldridge McPhee, Sheila Strachan, Yorick (Cassandra) and family, Edwin (Anne) Lightbourne and family, Herman (Dorothy) Coleby and family, Clara Evans and family, Dr. Gertrude Holder and family, Lancelot Evans and family, Lorraine Rolle and family, Angela McDonald and family, Michael Colebrook and family, Richards-Evans Association, LaKeisha Larrimore, Glenda Johnson and Family, Christian Brice, Maxine Missick and family, Elizabeth Taylor, Miriam Curling and family, Donna Charlow, Claire Patton, Dawn Charlow, Eldridge McPhee, Sheila Strachan, Ida Turnquest, Sharon Gardiner, Sandra Stuart, Greg Dorsett, Angeline Forbes, Reverend Cecil Newbold and Family, Fran Haven, Ricardo Deveaux, Mavis Jackson, Mark Demeritte, Trevor and Barbara Roberts, Eta Psi Omega and Tau Nu Chapters of Alpha Kappa Alpha Sorority, Incorporated, Wesley Methodist Church Family, and MCCA Family, Aquinas College Class of '79, Carib Insurance Family, National Health Insurance Family, Bel Canto Choir Family, Bain Town Community; and a host of others too numerous to mention.
Friends may pay their last respects at Bethel Brothers Morticians, #34 Nassau Street, on Friday from 10:00 a.m. to 6:00 p.m. and on Saturday at the church from 9:30 a.m. until service time.