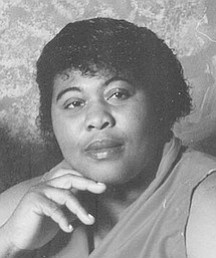 Betty Ann Anderson
unknown - unknown
Funeral service for
Betty Ann Anderson, 62
a resident of Key West Street, will be held at Coconut Grove Temple, 8th Street the Grove, on Saturday 27th December, 2014 at 11:00 a.m.  Officiating will be Bishop Lindo Wallace, assisted by other Ministers of the Gospel.  Interment follows in Woodlawn Gardens, Soldier Road.
Left to cherish her memories are her husband: Rudolph Anderson; sons: Benjamin Sawyer, Carlton Strachan & Ivan Strachan; daughters: Dorreen Laing, Paula Crutchfield of USA, Colleen Cooper & Ogetha Gibson; adopted children: Pandora Greene, Jamal Johnson & Sharlene Stubbs; grandchildren: Lakeisha Laing, Tamara Higgs, Caleb Crutchfield of USA, Steve Wilson, Benjamin Jr., Robert & Benjarel Sawyer, Stevanna, Steve & Sharlanda Bullard, Vernyce & Verniqua Cooper, Gevern & Gernique Gibson, Carlisa, Carlton Jr., Aaliyah, Ivan Jr. & Ivontae Strachan; great grandchildren: Sapphire Sturrup, Rihanna Moss & Macario Higgs; brothers: Edward Rolle, Daniel Demeritte; sisters: EllaMae Ferguson & June Cartwright; sons-in-law: Steve Bullard, Carl Crutchfield of USA, Gary Cooper & Gevern Gibson; daughter-in-law: Keisha Strachan, Trina Rose & Terrel Sawyer; uncles: Rev. Dr. E. John Newton & Alfred Dawkins; aunts: Edna Melford, Rev. Rudell Marshall & Estella Dawkins; brothers-in-law: Leonard Ferguson, Anthony Cartwright & Philip Fritz; sisters-in-law: Carolyn Rolle, Christine Demeritte & Hyson Johnson; nephews: Shervin, Frankie & Duane Williams, Charles Williams Ambrose, Edward Rolle Jr., Kevin Ferguson, Terrison Demeritte, David Fanander, Aston Ferguson, Val Missick, Deon Rolle, Bernard Johnson & Alexander Missick; nieces: Lakaisha, Shantell, Shannice & Shanique Demeritte, Karen Williams, Monique, Altemese & Berniza Rolle, Alexandra Missick, Shantell Ferguson, Bernice Demers & Demeka Johnson; special friends: Hon. Glenys M.E. Hanna-Martin, Joanna Coakley, Ellen Rahming, Pink Porch Crew, E. Cartwright, Ms. Iva Johnson & family, Mr. & Mrs. Carlton Strachan, Steven Rose, Antonio Rolle, Bahamas Food Services Staff, Tequons Richards & family, Hennrietta & family, Sybaline Brown & family, Kaithy Hanson & family, the Doctors & Nurses of the Gyne Ward; numerous grand nieces & nephews &  a host of other relatives & friends including: Judy & Scara Smith, Inderica Demeritte, Mervin & Mary Clark, Min. Tina Rahming, Judy Grant, Carolyn Rolle, Shirlean Moncur, Terance, Troy & Timothy McKenzie, Arthur Balfour, Dwight Francis, Shelly, Gilda, Tyrone, William Colby, the neighbors & friends of Key West Street community & many others too numerous to mention.
Friends may pay their last respects at Demeritte's Funeral Home, Market Street, from 1-5:00 p.m. on Friday & on Saturday at the church from 10:00 a.m. until service time.