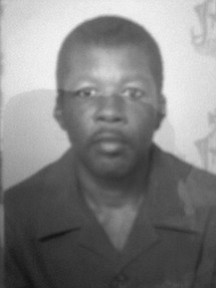 LARRY RAHMING
unknown - unknown
Funerals Service for the late LARRY RAHMING age 56, of Millennium Gardens will be held on Tuesday, December 30th 2014 at 11:00am at Berea Seventh Day Adventist Church, Baillou Hill Road South. Officiating will be Pastor Edward St. Fleur. Interment will follow at Woodlawn Gardens, Soldier Road.
Left to cherish the fond memories are his Sisters and Brothers: Pauline Crawley. Wilfreda Huie of Michigan, Frederick Rahming, Caroline Kinglocke, Donna Cooper, Linda General of Riviera Beach, Basil Greene Jr. of Freeport; Nieces and Nephews: Gaynell, Sean, Rickey, Tony Jr., Sophia, Michelle, Tiffany, Vasco, Anwar, Deidre, Mearlita, Bernard, Sirbasco, Keva, Kevin, Karin, Justin, Denise, Ian, Juvon, Davona, Baltram, Tiffani, Indira, Ansel, Calvin, Fenrick, Kenya, Wilfred, Indira, Khambrel, Javie, Nyoka, Nyoshi, Elton, Jerron, Dakota, Byronita, Crystal, Jared, Raven, Gregory Jr., Amber, and Carnetta, Denise and McClain; Grand Nieces and Nephews: Alderay, Gary, Omar, Nikaya, Anya, Shanique, Anthea, Tony Jr., Radante, Antonio, Ricardo Jr., Kenneth, Schackar, Javier, Jasmine, Dachea., Alyssa, Patrick, Khallia, Brian, Colvinique, Adam, Christy, Keyshawn, Malik, Ashleigh, Aaliyh, Trenique, Colvino, Rashead, Shannon, Kaleah, Coesha, Angelo, Travier, Mannie, R.J, Triana, Inderia, Almeka; Uncles: Felix Seymour of Freeport, John Seymour of Miami, and Herman Sawyer; Brothers in Law: Lloyd Kinglocke of Freeport, Gregory Cooper, Henry Huie of Michigan, Ambrose General of Riviera Beach and Sonny Brown; Sisters in Law: Getrude Rolle, Nicola Rahming and Joye Greene of Freeport; Cousins: Rudy, Mackey, Julian, Trevor, Barry, Francis, Tyrone Sawyer, Jan Farquharson, Ann Valdez, Margaret Franks, Benedict, Randolph, Peter Dorsette, Michael, Pedro, Godfrey,. Patricia Rolle, Melvern Woods, Paula Marshall, Marilyn Smith, Carol Strachan, Denise and Faye Rolle, Gary, Perry, Claude, Carmen, Wendy, Elizabeth, Sheena, Audrey, Eulcimae, Kayla, Felix Jr., Brian, Karen, Kevin, Kirk Seymour, Deborah Addo, Kermit, David, Shelly Smith, Ingrid, Nadia, Cecil Colebrooke, Patrice Johnson, Dereck, Andrew, Micheal Seymour. Numerous relatives and friends: Basil Greene Sr., Bill Cooper, Maxine and Vernon Ritchie, Louise Deveaux, Linda Riley, Pearlimae Mott, Dr. Rudolph Dorsette, Coralee Sturrup, Agnes Saunders, Laverne Duncombe, Kirk Adderley, Queenie Hanna, Ethel Brown, Patricia Mitchelle, Linda Tucker, Judy and Solomon Rolle, Cynthia Davis, Valencia Saunders, Andy and Louise Gomez, Astrid Adderley, Victor Hutchinson, Danny Ferguson, Donna Russell, Gladys Moncur, Lilis Woods, Myrtle Dorsette, Leah Strachan, Eva Gardiner, Ola Rahming and Family, Keith Gaitor, Laverne Crawley, Aaliyah Dean, Sonia Russell, Peter Harper, Alice Woodside, Rahming Family, Strachan Family, Seymour Family, King family, Hepburn Family, Nicholas Court Family and a host of other relatives and friends to numerous to mention.
Viewing will be held in the Serenity Suite at Restview Memorial Mortuary & Crematorium Ltd, Robinson and Soldier Roads on Monday December 29th from 12:00noon to 6:00pm and at the church on Tuesday from 9:00am until service time.