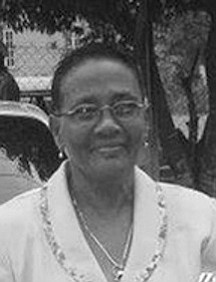 ROSANNA CALBERT-DAVIS
unknown - unknown
ROSANNA CALBERT-DAVIS age 69 years of Little London District Westmoreland, Jamaica died at her son residence on Tuesday, December 16th, 2014.
She is survived by her Children: Selbourne Riley, Beverley Reid-Boulin, Trivena (Patsy), Kenroy, Gilbert, Sandra & Stephen Davis; Grandchildren: Clevon, Michelle, Gregory, Nicholas & Shantol Riley, Khaedeen, Rahmone, Kryscynthia & Colin, Shannon, Anthony, Sabrina & Christina, Gilbert Jr., Dayton & Raven Davis, Kevin Yanique & Cassandra Wright, Shanique & Sachelle Davis; Great Grandchildren: Nathaniel Fearon, Tanique & Kajhanna Wright; Brother: Henry Calbert; Sisters: Rosetta Scott & Rosetta Sundal and other relatives and friends.
Arrangements for the funeral service are being finalized and details will be announced at a future date.