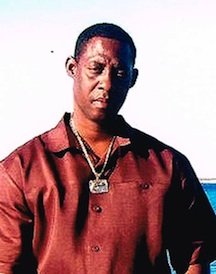 Wesley "Shakey" Bain Nixon
unknown - unknown
Funeral Service for the late Wesley Bain Nixon affectionately called "Shakey" age 52 years old of Blue Hill Road will be held on Friday, January 31st, 2014 at 11:00am at Mt. Calvary Baptist Cathedral, Blue Hill Road and Laird Street. Officiating will be Rev. Dr. Phillip McPhee assisted by Bishop Gregory Minnis. Interment will follow in Woodlawn Gardens, Soldier Road.
He is predeceased by his brother: Clayton Baillou;
Left to cherish his memories are his Wife: Joan Reid-Nixon; Parents: Shelia and Alphonzo Baillou; Mother-in-law: Vera Reid; Father-in-law: Sedwick Reid; Stepmother: Eloise Bain; Sisters: Theresa McKenzie, Linda Paulsaint, Stephanie Andrews of Fort Pierce, Florida, Deborah Neely, Lynette, Maxine and BreQuelle Bain; Brothers: Brad and Haywood Baillou, Elvis Clarke, Dwayne and Leslie Bain Jr.; Sisters-in-law: Jennifer Clarke, Starretta and Donelle Bain, Marge Reid-Sharp Jamaica, Donna Reid-Mitchell, Kesha Reid of Dallas Texas, Soina Reid-Brown, Rose Reid-Tarkssa; Brothers-in-law: Donnie-Lloyd McKenzie, Jelusma Paulsaint, Sam Andrews of Fort Pierce, Florida, Eardley Neely of Lower Bogue, Eleuthera and Vincent Sands, Anthony Reid Jamaica; Nieces: Dawn McKenzie, Javannah and Javanae Paulsaint, Latoya and Jewel Andrews of Fort Pierce, Florida, Raynardia and Deshae Baillou, Lorette Cinus of Lower Bogue, Eleuthera, Terecita Curtis, Lashae Sands, Jeniskha Clarke, Amber Francis and Deldricka Bain; Nephews: D'Angelo, Raynardo, Devante and Rayshad Baillou, Diamond Andrews of Fort Pierce, Florida, Deshawn and Lashanno Smith, Javarius Paulsaint, Earl Johnson, Dwayne Jr., Drexel, Theonaldo, Edwardo, Lawrenzo, Jamon and Leslie Bain Jr., Rajiv, Rashad and Raheeb Clarke, Irvin Sr., Bradley Bain, Bernard Bain Bastian; Grand Nieces: Omara and Kendra Bain Randia Gordon, Alicia and Alexis Baillou; Grand Nephews: Keshawn, Deshawn, Darius, Daniel and Theonaldo Bain Jr. Randy; Aunts: Magaretta Kelly of Long Bay Cays, Andros, Mythis and Christine Nixon, Maureen Baillou, Jestina Baillou, Rose Martin and Ruthmae McKenzie of Freeport, Grand Bahama, Melva Bastian and Rayann Bain of Mangrove Cay, Andros, Adeltis Stubbs, Yvonne Stuart, Salome McDonald and Cula Bain; Uncles: Roy McKenzie and Lionel Martin of Freeport, Grand Bahama, Ivan Kelly of Long Bay Cays, Andros, Everette Baillou, Bernard and Kingsley Baillou of Freeport, Grand Bahama, Douglas Nixon, Henry Bain of Mangrove Cay, Andros, Herbert Stuart, Michael Stubbs and Teddy McDonald; Grand Aunts: Joylene and Eulalee Bain; Grand Uncle: Ernest Bain; A host of other friends and relatives including: Elovese and Gregory Saunders, PC 1525 Deon Nixon, Glenroy Baillou, Derek Hophins, Helena Cooper, Paulie Demeritte, Ellamae and Emma Baillou, Cheryl Lightbourne, Tezel Blatch and Frances Rolle all of Freeport, Grand Bahama, Sabrina Bain of Bullock Habour, The Berry Island, Latika Wayde of New Jersey, Lenel and Steve Davis of Fort Lauderdale, Florida, Tammy Woodside, Alethia, Dallas, Brekell Van and Wendy Kelly, Thomas and Joann Ferguson, Monique Baillou, Alex Baillou, Jerome, Christopher, and Kevin Nixon, Helen Hall, Lanardo Burrows, Gregory, Jeffrey and Dennis Rahming, Pamela and Tony Deveaux, Whitney, Christine, Harriette, Marilyn, Dennis, Delroy, Larry and Derek Bastian, Desiree and Dr. David Stuart, Lashan and Torey McDonald, Antonia Delva, Coleen Bain of Mangrove Cay, Andros, Brenda, Theresa, Elsie, Nickie, Karen, Gino, Sheniece, Shena, Brian, Rubert, Leroy, Jamal, Sherman, Camron, and Marcus Bain, Bernadette Johnson, Sherlene Wright, Tracey Newton, Doris Taylor, Trevor Rolle, Mario Butler, Duran Taylor, Darren Forbes, Naomi Turner, and Maureen Ellis, John and De'John Stuart, Big Mike Stuart, Bowleg & Family, Patrice, Camy and Eyvette Stuart, Mable Bain, Ena Saunders, Dave Stuart of West Virginia, Mrs.Tina Mckenzie, Veronica Bain, Ira Marcia Kelly, Mrs. Elanda Benaby & Family, Mr. & Mrs. Everette Strachan, Sandra, Keith Rolle & Family, Mary Rolle & Family, Crystal Palace House Keeping Department, Hilton Hotel Family, Assue Draw Family, Stephain, Phillipa, Patrick McKenzie & Family, Amoury Company Family, Mr. & Mrs. Evans, Mrs. Hesterlina Miller & Family , Baillou Hill & Martin Street Crew, The Vessey Street Crew, Bain & Grants Town Crew, Quintine Alley Crew, East Street Crew, Zion East & Shirley Street Family, Yvonne Lawson Jamaica, Karen McPhee & Family, Pastor Cyril Sands & Family, Pastor Phillip McPhee & Family, Pastor C.B Moss & Family, Sharon McPhee & Family, Unice Forbes & Family, Luella Bowe & Family, Althea Fowler & Family, Corine Stuart & Family, Leah Stuart & Family, Celestina Cleare & Family, Sidney Wilson Jr. & Family, Jackie Knowles & Family
Viewing will be held in the Serenity Suite at Restview Memorial Mortuary and Crematorium Ltd., Robinson and Solider Road on Thursday from 10:00am to 6:00pm and at the church on Friday from 9:30am until service time.