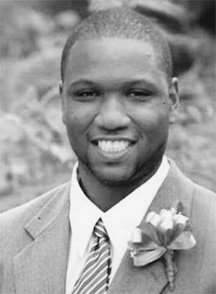 Kareem Quinton McKinney
unknown - unknown
Funeral Service for
Dr. Kareem Quinton McKinney, 40
of Allen Drive, who died on January 16th, will be held on Saturday 10:00 a.m. at Holy Cross Anglican Church. Officiating will be Canon Norman D. Lightbourne assisted by Father Richard Wood interment will follow in Ebenezer Methodist Church Cemetery, East Shirley Street.
Left to celebrate his life are: Parents: Verilyn McKinney Knowles, Fred McKinney; Sisters: Konica Knowles Munnings, Rochelle Swaby; Brother-in-law- Jay Munnings; Niece- Yajanae Munnings; Nephews- Yaj Munnings, Kyle Swaby, Kavan, Kevin Bannister, Andre Miller, Justin Strachan; Aunts- Patricia Coakley, Pamela Thompson, Nyochee Patton, Euwonka Saunders, Brenda Turnquest, Barabara Turnquest, Kathleen Newman; Uncles - Chela Saunders, Shane "Moko" Saunders, Neville Brennen, Micheal Turnquest, Earl Thompson; Grandfather- Whitmore Turnquest; Grand-aunts -Katrina Cartwright, Winifred Mallory Doris Bullard; Great Grand-aunts- Dolly Saunders, Margareth Edgecombe, Enid Lloyd; Grand-uncles- Alfonso McKenzie, Alvin and Drexel Turnquest; God-son; Denton Penn Jr. ; Cousins - Robert and Damian Coakely, Reverend Rudolph Cleare, Andrew, Dion, Davania Thompson, Patria Thompson Ambrister, Kenosha, Nishan and Nathan Patton, Saschenka Thurston, Xynai Thomas, Cito Moore, Inga and lshido Saunders, Daniel Saunders Greene, Sean and Marsha Mckenzie, Melissa Kemp-Perry, Marleigh Toussaint, Melanie Bain, Cheryl Taylor, Spencer, Harrington, and Vanessa Malory; Thomas Seymour, Madea Dean, Blenton Kemp, Thelma Deveaux, Shacara Taylor, Celeste, Sherlyn ,Nicolette, Sheldon, Brent and Stephen Bethel, Terrence, Janice, and Uriah (Nathan) Cartwright Jr, Andrew, Natalie, Maria, and Elizabeth McKenzie, Debbie Lightbourne, Lamantha, Eugene (Jeno), Corrington, and Drexel Maycock, Kara Manouzi, ltalia Simmons, Kyrie Garland, Loretta Collins and family, Gloria Smith and family, Rhodelle Saunders, Wendal McKenzie and family, Julian McKenzie and family, Edward, Candice, Christof, Sherlinda, Ondray, and Deandra McKenzie, Mark and Angelica Humes, Emilie, Raquel Moxey; Other Relatives and Friends Including: Vivienne Lockhart (Embraced mother) and family, Philip Grey (Embraced brother) and family, Kendal and Olive Patton, Oneezer Russell, Elijah Moore, Donica Jackman, Leslie Perigord, Pastor Cherise Wilkinson and family, Mary Seymour, Denton Penn, Lavardo Fisher, Kyla Dennis Wright Dclare, Sophie Fisher, Charlene Adderley; The Doctors, Nurses, Pharmacy and Staff of Princess Margaret Hospital, Rand Memorial Hospital, Doctors Hospital and Public Hospital Authority, Steven Martin and family, Faye McKenzie Munroe and family, Vincent, Melyin, Lorraine, Daphne Knowles and family, General Grant and family, Barbara Rolle and Troy Jaffer and family, Molyanne Saunders and family, Margaret Major and family, Stanford Culmer and family, Aruto Wilson and family, Mettie Higgs and family, Latoya Lewis, Helen MacPhee and family, Pastor Peter Pinder and the Zion Baptist Church officers and members, Janice Grant and family, Solo Williams and family, Rose Mckenzie and family, Lorana Rolle and family, Fredricka Bethel and family, McNeil Mckenzie and family, Nuisa Rolle and family, Nathan Lloyd and family, Ancel Lloyd and family, Cora McKenzie and family; and The Wright, Lloyd, Storr, Davis and McKenzie families of Barratarre, Exuma.
Friends may pay their last respect at the Funeral Home on Mount Royal and Talbot Streets on Friday at 10 a.m. to 5 p.m. and at the church on Saturday from 8:45 a.m. to service time.