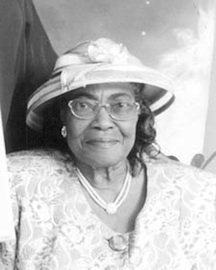 Mary Elizabeth Hanna Cox
unknown - unknown
Death Notice For Mary Elizabeth Hanna Cox, 88 of Golden Gates Estates #1 and formerly of Spring Point, Acklins died at the Princess Margaret Hospital on Saturday January 25th, 2014.
She is survived by her daughter: Lluma Rolle; granddaughter: Caroline Deveaux; adopted grandchildren: Portia, Desiree and Anthia Williams; nieces and nephews: Daisy, George and John Hanna, Maria Lolla, Tanya Pierre and Ernest Meadows; other relatives: Mary Belle, Elizabeth Hanna, Hattie Wright and Bishop Elrett Josey of Florida.
Funeral services will be announced at a later date. Arrangements entrusted to Gateway Memorial Funeral Chapel.