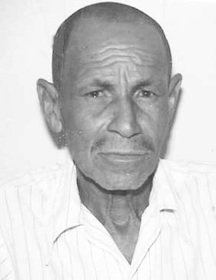 George Patrick Kemp
unknown - unknown
For the late Mr. George Patrick Kemp Age 66yrs, a resident of Nassau Village and formerly of Williams Street off Shirley Street, will be held on Saturday July 19th 2014, 10.00 a.m. at Holy Cross Anglican Church, Highbury Park. Officiating will be Canon Norman Lightbourne assisted by Rev. Fr. Richard Wood. Cremation will follow.
Left to cherish his precious memories are his Sons: Dwayne, Javaro and George Patrick Kemp Jr., Adopted Children: Kendra Cox Pinder, Cheasla Wood, Anitra Dawkins, Quant and Haysalah Rolle, Sister: Loretta Kemp, Grandchildren: Dana, Dillian, Javante, Kean and Jayla Kemp, Quant and Alyssa Rolle, Navado Sturrup, Anna Grant, Ian Dawkins, Ryeasha Pinder, Chavama, Cheslia, Breann and Chesla Wood, Daughter-in-Law: Kim Kemp, Nieces: Val and Antoinette Knowles, Tanya Higgs, Susan Morley, Anastacia Bowe, Monique Greenslade, Taba Styles, Angela, Ursale and Allison Thompson, Joanne, Dorathy and Beatrice, Nephews: Danny, Jullian (Obbis), Charles, Gavin and Lamont Knowles, Almario Green, Barry, Paul and Perry Kemp, Grandnieces: Latoya, Kandice, Richa, Samantha and Brittnay Bowe, Crystal and Wristin Morley and Andreanna Thompson, Grandnephews: Edray Jr., Mario, Davaughn and Rashad Bowe, Colyn Morley, Johnathon, Rashad, Gerrard, Gary, Anwar and Joshua Thompson and Cordero, Sisters-in-Law: Grace, Gloria and Winnie Kemp, Godchild: Mackayla Duncan and a host of other Relatives and Friends including: Neville Smith, Mrs. Dorathy Rahming, Sharon Williams, Marilyn Rolle, Patience Ferguson, Sandra McPhee, Bridgenetta Richardson, Everett and Kenny, Hiram Munroe, The Eastern Medical Clinic, the Entire McPhee Family, the Adderley Family, Mr. Mike Neely and Staff at Texaco (East Bay), Lashena Forbes, Ashley Seymour, Latoya Bus, Tatika McKintosh, Navado Sturrup, Angelo, Blue Waters and J&J Shipping Staff, Doctors and Nurses at PMH, the Entire Shirley Street, Hatchet Bay and Nassau Village Community and Families.

The body will repose at the Chapel of the Saints, Sweeting's Colonial Mortuary and Crematorium, #84 Blue Hill Rd. from 10.00 am on Friday until 6:00pm and on Saturday from 9:00 am until service at the Church.