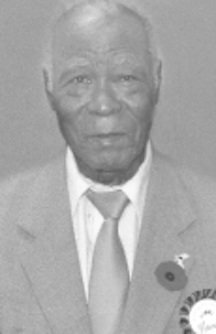 Ormond Hilton Poitier
unknown - unknown
Funeral Service for the Late Ormond Hilton Poitier, M.B.E., age 90 years of Farrington Road and formerly of Eight Mile Rock, Grand Bahama, will be held on Friday July 18th, 2014, 10:00 a.m. at Wesley Methodist Church (MCCA), Malcolm Road East, Malcolm Allotment. Rev. Cecil Newbold, Rev. Kenneth Huggins, Rev. Henley Perry, Rev. Bruce B.C. Swapp and Rev. L. Manette Poitier-Cripps will officiate. Interment will follow in Ebenezer Cemetery, Shirley Street.
Left to cherish beautiful and lasting memories of Ormond; His Children: Florestine & Dwight Sawyer; Eric Poitier; Marie & Terrance Smith; Adopted Child: Rev. Bruce B.C. Swapp; Grand Children: Christiaan & Nadine Sawyer, Darren Sawyer, Amanda & Dario Dean, Jehu & Lisa Robertson Poitier & Erin Poitier and Nicholas & Kimberly Smith; Adopted Grandchildren: Andrew & Felice Swapp, Tara Rattan and Elisha Forbes; Great Grand-Children: Jared & Alisa Sawyer, Dylan Dean, Kaylan Davis, Emily & Laila Poitier, Donte Harris and Anjelake Robertson; Adopted Great- Grandchildren: Brandon & Tyler Rattan; Daughters-in-law: Elaine Dorsett-Poitier and Valderine McKinney-Poitier; Siblings: Manette Fullwood, Lois Richardson, Joyce & Rudolph Burgzorg, Maureen Rahming, Astrid Brookes,Virginia Mortimer, Jane Adderley and Eunice Fenty; Nieces & Nephews: Maxwell & Eve Poitier, Paula & Tom Darcy, Brandford & Vera Chase, Arthur & Judith, Elease, Gail & Renee Chase, Hugh & Primrose Chase, Haldene & Colyn Chase, Manette & Nicholas Cripps, Ida & Kenneth Turnquest, Wendyi & Brian Albury, Spencer Poitier, Marcian & Valarie Mortimer, Lorna & Gerard Mortimer, Alfred & Daphne Richardson, Iris Richardson, Anthony & Hazel Richardson, Dr. Kenneth & Ivis Richardson, Katherine Richardson, Ralph & Sherry Richardson, Selwyn & Dellareese Richardson, Drs. Ormond & Kimberly Richardson; Carver: Burgzorg, Lena & Selwyn Dottin, Carol Morley, Joan & Otto Fountain, Frederick & Ian Burgzorg, Trevor & Llewlyn Burgzorg, Michael & Sharon Poitier, Charisse & Alexander Brown, Claudia & Vaughn Glinton; Annamaria & Bradley Smith, Vernelle and Rev. Charles Carey, Patricia & Terrance Fountain, Sonjia & Bruno Roberts, Brian & Cassandra Adderley; Roosevelt & Diane Rahming, Earl & Clare Rahming, Monique Wright; Joyanne, Shileah & Daniel Ferguson, Cheryl & Homer Bloomfield, Daphne & Dr. Graeme Fraser-Bell; William & Joan Poitier. AND A HOST OF GREAT-GRAND NIECES AND NEPHEWS; God Children: Robert Archer and Neville Bethel. Other relatives and friends including: Cynthia Stuart, Elva Moxey, Jackie Lockhart Wallace; Clarice Sands Granger, Lillian & Herman Wilson, Carlton Gray, Winifred & Jerome Jackson, Idamae Sinclair, Robert & Eleanor Elliott; Leonie Sweeting; Aaron & Marion Seymour; Christine Fountain & Family; Mildred McNeil & Family; Miriam Symonette & Family; Patricia Archer & Family; Grace Plakaris; Louise Foster & Family; Gertrude Burnside & Family; Dr. Herbert Orlander; Emily Burnside and Family; Ralph Wood & Family; Anthony Lunn & Family; Felicity Johnson; Sandra Major; Paulette Rahming; Trixie Huyler; Maple Strachan & Family; Helen Campbell & Family; Ann Bease; Gerturde Burke, Gaye Lawrence, Janet Barrett all of Jamaica; Ada Varlack & Family of Aruba, Jeanne Bernard, Philip & Deborah Russell & Family all of Canada; The Family of Marcus & Jane Bethel; Pearl McFarlane & Family; Emerald Winder & Family; The Family of The Late Agatha Williams ; Pandora Johnson & The Gang; Kirkland Smith & Family; Bernard & Nicole Evans & Family; Audrey, Betty & Allan Major; Pandora Sawyer; Sharelle Ramroop; Rosie Bethell; Blanche Barry & Family; Mizpah Bosfield & Family; Mona Culmer & Family; Leona Roach; Villann Johnson; Anes George; Gloria Young & Family; Anton & Paulette Cooper Anthony Roberts & Family; Rose Bethel; Jacqueline Lightbourn; Kimberly Higgs, Judith Hunte & Family; David Johnson & Family; Hank Gibson & Family; Drexel Ingraham & Family; Rudolph Stubbs & Family; The Family of the Late Leona Varence; Altemease Isaacs & Family; Charles Sweeting & Family; Andy Gomez & Family; Charles Gibson & Family; Roscoe Davies & Family; Edsel Strachan & Family; Godfrey & Sheila Strachan & Family; Gregory Williams & Family; Asa Ferguson & Family; Nicholas Bowleg & Family; Daniel Sturrup & Family; Marla Strachan; Deborah McClure; Rawle Braithwaite; Theadora Sargent & Family; The Church Families of Wesley Methodist, Malcolm Road; Coke Methodist, Rose Street; Rhodes Methodist, St. Paul's Freeport, Heritage Methodist; Providence Methodist and St. Agnes. THE CAT ISLAND AND RAGGED ISLAND FAMILIES, AND THE FARRINGTON ROAD, BAIN AND GRANTS TOWN FAMILIES.
Special Thanks to Dr. Herbert Orlander; Dr. Adrian Sawyer; Dr. Robin Roberts; Dr. Joseph Evans; Dr. Jones and the Staff of Grants Town Medical Clinic, Dr. Tonya Roker Davis; The Doctors and Nurses of The Trama Unit. Nurse Steve Clarke and Elisha Forbes; Mrs. Renee Roth and Mr. Raphael Peters, Anton Cooper, Daniel Sturrup, Adriel Albury and Nicholas Bowleg; AND SPECIAL THANKS IS EXTENDED TO THE NEPHEWS, NIECES, AND FRIENDS WHO TRAVELLED TO BE WITH US AT THIS TIME.


Friends may pay their last respects at the Lynden Pindling Centre (P.L.P. Headquarters), Farrington Road, on Thursday from 11:00 a.m. to 4:00 p.m. and on Friday at the church from 9:00 a.m. until service time.