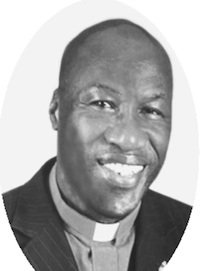 Solomon L Humes
unknown - unknown
Funeral Service for the Late Solomon L. Humes; age 63 yrs of #3 St Thomas Road, Golden Gates will be held on Saturday, July 17th 10:00 a.m. at Church of God of Prophecy Tabernacle, East Street.
Officiating Bishop Franklin M. Ferguson: National Overseer of The Churches of God of Prophecy.

Assisted by other Ministers of the Gospel; Bishop Sterling Moss, Senior Pastor,Meadow Street. Bishop Rudolph McKinney Asso. Pastor, Minnie Street. Mins. Carlson Arthur Asso. Pastor, Minnie Street.
Place of rest: St Barnabas Anglican Cemetery, Moore Avenue & Lincoln Blvd.
He is Survived by his:
Wife: Patricia Humes 
Children: Linrose Humes-Morris, Solomon Jr. and Patrick Humes 
Mother: Elsada Humes 
Brothers: Donald Saunders and Bishop John Nathaniel Humes 
Sisters: Catherine Dean and Pamela Brown 
Mother-in-law: Rosabell Wilson 
Adopted Daughter: Olga Cartwright 
Son-in-law: Levorn Morris  
Brothers-in-law: Leon Sr., Waden Sr., Gregory Sr., Rudolph Sr., Van & Clayton II Wilson,Alvin Marshall, Stephen Cefort Sr., Lynden Ramsey, Ivan Charles Sr. and Javan Dean Sisters-in-law: Jenny Humes, Melanie Marshall, Edith Cefort, Mildred Ramsey, Charo Charles, Ramona, Bridgette, Margaret and Shevonne Wilson 
Special Daughters:  Nell Butler, Karen Dames, Pamela Gorte, Charmaine Grant, Tamara Reckley and their Families 
Nieces: Sophia Miller, Joy Rolle, Jovette Archer, Leonique Taylor, Ramona Tenier  McPhee,  Otressa Hanna, Alverne Major, Alexis Nevers,  Scharone & Simone Cefort, Chanavi & Chamiah Charles, Shantaleace Marshall, Geiselle, Chrystal,  Waianya, Greshonda  & Rudisha Wilson,  Lavern & Sheraire Humes,  Shonte Miller and Tayla Nicolls and Sharina Remey 
Nephews: Douglas Humes, Don & Deon Saunders, Andre & Jared Dean, Dwight, John III and Jonathan Humes, Alastor & Alton Marshall, Leon Jr., Raemon, Devon, Waden Jr., Rolando, Gregory, Allen, Rudolph Jr., Jaden, Jamal, Clayton Jr. & Anfernee Wilson, Brian Rolle, Dr. Kendis Archer, Stephen Cefort Jr., Ivan Charles Jr., Joey Butler Jr., Neko Nevers, Shakeno Hanna, Jeremy Major and Omar Ferguson 
Cousins including: Rose Humes, Amelia Bowe, Bathsheba, Valerie & Maria Ferguson, Anetha Humes, Janneth Turnquest, Virginia Ferguson, Emerson and Kenny Rolle, Wenzel Bowe, Patricia Wilson, Francine Lloyd, Nathalie Sweeting, Antonia Gibbs, Karen Adderley, Mickelya, Warren, Bunnideth & Williams Jr. Humes, Erma and Elizabeth Humes, Verneta Humes, Rosenell Horton, Marcella Mallory, Ruthmae Francis and their Families 
Special Mention: Bishop Joseph Swann and Family; Bishop Shelton & Shelly Beneby and Family; Patricia Bethel and Family; Kelson & Dorcas Cox and Family; Michael & Eulese Munroe and Family; Nevelon & Oliver Gaitor and Family; Samuel and Jonnell Johnson and Family; Patricia Hamilton and Family; Nellie Walkes and Family; Florine Knowles and Family; The Cefort, Adams and Under the Tree Family (Eight Mile Rock); Almondo & Punchetta Taylor and Family;  Mattie Mills and Family; Allison & Quinton Levarity and Family; Barry Morris and Family; The Families of Roy West, NatWest, Coutts & Co and S. G, Hambros; The Pastors and Families of the Church of God of Prophecy Minnie Street; The Pastors and Families of the Church of God of Prophecy Meadow Street;  The Pastors and Families of the Church of God of Prophecy Exuma District and The Pastors and Families of the Church of God of Prophecy Acklins District 
Godchildren including: Cameron Kerr, GiGi Gibson, Gerard Butler, Davaro Wilson, Nique Lafleur, Jadeena Rahming and Nerrisa Hanna 

His Sweetie-Girls: Too numerous to mention 
Aunts and Uncles: Mavis Wilson, Sarahlene Royal, Mamon & Marina Lee, Rosenell Lightbourne, Evandney Fowler, Shirley Brown, Icelyn Fowler, Vanlock and Janet Fowler, Leslie and Whitmore Fowler and their Families
Friends may pay their last respects at the Rock of Ages Funeral Chapel on Wulff Road and Pinedale on Friday, July 18th, 2014 from 10 a.m. – 6 p.m. and on Saturday at the Church from 8 a.m. until service time.