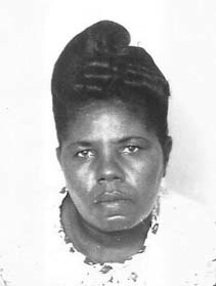 Audrey Gilbert-Johnson
unknown - unknown
Funeral Service for Audrey Gilbert-Johnson, age 62 of Andros Avenue and formerly of New Bight, Cat Island who died on June 4th 2014 will be held on Saturday at 10 a.m. at Church of God, Independence Drive. Officiating will be Rev. Joseph Smith assisted by Rev. Rufus Lightfoot and Rev. Rachael Mackey. Interment will follow in Lakeview Memorial Gardens, J. F. Drive.
She is survived by her mother: Louise Gilbert of New Bight, Cat Island; two daughters: Shanique Johnson and Nikita Gray; three sons: Dr. Quentin Johnson of Washington D.C., Henderson Armbrister and Larez Johnson-Poitier; Grandchildren: Sharranda Burrows, Jasmine and Dwayne Adderley, Jordon and Marverick Armbrister and Tyneka Cargill; Daughters-in-law: Cleanne Johnson and Glenda Armbrister; Sisters: Rev. Dorothy P. Bain, Janet Gilbert, Nurse Berthalee Walkes and Ruth Edgecombe of Marsh Harbour, Abaco; Brothers: James Gilbert and Allan "Candy" Gilbert of New Bight, Cat Island; Aunt and Uncle: Irene Johnson and Rev. Daniel Johnson of New Bight, Cat Island; Sisters-in-law: Lenora and Jenny Gilbert; Brothers-in-law: Cyril Walkes Sr., and Leonard Edgecombe Sr., Nieces: Dr. Krista Walkes-Francis; Dr. Marissa Moncur, Sophia McKinney, Jackie Fox, Joan Cambridge-Telle; Kim, Tasha and Keisha Gilbert;Valencia Ramachala and Karis Carey; Nephews: Givano Gilbert of Salt Lake City, Utah; Cruze Gilbert, Cory Bain, Edison and Wayne Moncur, P.C. 2711 Reynaldo Walkes, Leonard Edgecombe Jr., Alberto, Leonardo, Allancio, Ian, Teron, Kevin and William Gilbert; Jonathan Jr., Archie and Jason Cambridge; Other relatives and friends: including Abigail Fife, Betty Seymour, Judy Strapp, Veronica Wilson, Gretel Stuart, Jenniemae Williams, Lenora Heild, Maxine and MaryAnn Rolle,Kim Moss, Mae Smith, Joan Rolle, Fairest Johnson, Theresa Collette and Paula Mae Brown; Lionel, Dennis and Wendy Gilbert, Barbara Dorsett, Maybell Rolle; Patricia, Melonie and Marie Moss, Oris Strachan, Rev. Jeffrey Johnson of Freeport, Grand Bahama; Everette, Lynden, Frank and Rodney Johnson; Whitney and Alfred Moss Jr., Joyce, Hilda and Edison Knowles, Rosetta Clarke; The Family Medicine Clinic; Food Service Department of P.M.H., the Fashion Trap Stores, Southwest Cathedral, The Lighthouse Fellowship Church of God and the Independence Drive Church of God families; the Abaco Central High School family; the entire Cat Island Community including: the Williams, Seymour, Thompson, Bannister, King, Moncur, Romer, Johnson, Pratt, McKinney, Stubbs, Poitier and Russell families; The Honourable Philip "Brave" Davis and others too numerous to mention.
Friends may pay their last respects at East Sunrise Mortuary, Rosetta Street, Palmdale from 10 a.m. to 6 p.m. on Friday and at the Church from 9 a.m. on Saturday until service time.