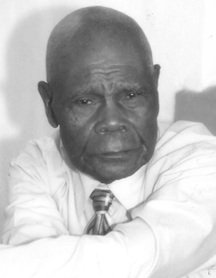 William Alexander Henfield
unknown - unknown
Funeral Service for the Late William Alexander Henfield, age 92 years of Gardens Hills #1 and formerly of Turks & Caicos Island, will be held on Saturday June 21st, 2014, 11:00 a.m. at New Bethany Baptist Cathedral, Key West Street. Bishop Victor Cooper Jr. assisted by other Ministers of the Gospel will officiate. Cremation will follow.
Left to cherish his memory and celebrate his life are: Wife: Eunice "Annis" Henfield; Children: Terrance, Troy, Tony, Branford (Sherry), Arthur, Godwin (Ruby), Graham, Dwight, Vesta (Margie) Ulean, Patronilla, Valderine & Pamela Henfield, Alvera(Franklyn) Knowles and Carimenda(Rodney) Ferguson; Brother: Jeffrey Henfield; Sisters: Mary Henfield, Roselyn Mullings and Magdalin Forbes; Brother-in-law: Robert Forbes, Alphaes Smith, Ebenezer Harvey and William "Saunders" Henfield; Sisters-in-law: Hessie Arthur and Lilleth Harvey; Grandchildren: Leon/Odica, Nickiter, Saskia, Kenton & Lashandra Black, Sharlese and Sharlen Henfield, Valeska /Mike Doret, Valencia Knowles, Vandia/Jamal Smith, Philip Adderley, Kevin/Bridgette Henfield, Quentin/Nancy and Trevor Woods, Anastacia Benson, Natalka/Stephen Greenslade, Natasha/Troy Lewis Sr., Branford Jr./Cherese Henfield, Omar/Shacarra Henfield, Sean, Jermaine, Ricardo & Patricia Henfield, Andy and Natasha "Mitsy" Rolle, Chevaugh Bain, Gina Ferguson, Keyzerro, Vestia, Shanna, Dramel and Renee Henfield, Jeffrey Henfield Jr, Tonell Valdes and Jelisa Russell; Nephews and Nieces: Nathan Henfield & family, Llewwllyn Henfield & family, Arthur Henfield & family, Calvin Henfield & family, Hamutal Henfield & family, Oswald Henfield Jr. & family, Herman Henfield & family , Thomas Henfield & family,, Lincoln Henfield & family, Myrtis Clare & family, Lewith Henfield & Family, Mary Evans and family; Great Grandchildren: Tangelique "Tangy" Black, Dajia Johnson, Jeza Carey, Dario Pinder, D'Sean Curtis, Payton Black, Shahnaz and Shemar Winters, Ramon Hart, Diego Duncombe, Vernica Cox, Javen Smith, Brittany& Jonathon Henfield, Keyshawn, Trinity & Alicia Woods, Lautia & Latonia Simms, Malik, Cameron & Kimori Adderley, Tevor Jr. & Trettoir Woods, Hailey Deveaux, Ricardo Henfield Jr., Te'sean & Te'Dyn Henfield, Monalisa , Ceara & Alexsandrea Hanna, Brittany , Brenay & Brianna Greenslade, Leonardo & Destiny Henfield, Troynisha, Troy Lewis Jr., Shania, Amanda, Kymani, Asia Maire Henfield, Andika Rolle and Bradston Black. Other relatives and friends including: Lorraine Moss & Family, Prince & Alfred Phillips & family, Ona Lozetta Stubbs & family, The Missick, Walkine, Hamilton, Gardiner, Higgs, Forbes, Hall and Outten families, George Swann & family, Mr. Cordell Delancy and Family, Janet Bridgewater & family, Ms. Simmons and family, Ms. Morley and family, Mr. Brensil Rolle & family, Bishop Victor Cooper & family, Sister Birdie Hanna, Deacon Jimmy Dean, Preston Major, Deaconess Mary Johnson, Patricia Morton, Elder Kendal l Darling, Frances Cooper, Garden Hills Estate #1 family, New Bethany Baptist Church family, Hillview Seventh Day Adventist Church, and many more too numerous to mention.
Special thanks to Dr. Alleck Alpaeus, Dr. Zharvago Rolle, Dr. Christine Chin, staff of Male Medical II and Accident & Emergency, Princess Margaret Hospital.
Friends may pay their last respects at Bethel Brothers Morticians, #34 Nassau Street on Friday from 10:00 a.m. to 6:00 p.m. and on Saturday at the church from 10:00 a.m. until service time.