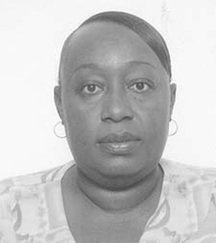 Deborah Marguerite Corrine Higgs
unknown - unknown
Funeral service for
Deborah Marguerite Corrine Higgs, 45
a resident of Windgate Drive, Golden Gates, will be held at New Covenant Baptist Church, East West Highway, on Saturday 29th March, 2014 at 10:00 a.m. Officiating will be Senior Pastor Trajean Jadorette & Bishop Simeon B. Hall, assisted by Pastor Stephen Wells Sr. & Pastor Kelvin Briggs. Interment follows in Lakeview Memorial Gardens, JFK Drive.
Left to mourn her passing and cherish her memories are her Brothers: Elkanah Jr., Noel, Leroy, and Audley Higgs;
Sisters-in-Law: Viviane Higgs of St. Martin, Sybrenia Higgs of Nassau, and Enid Higgs of the Turks and Caicos Islands;
Adopted Sisters and Brothers/Brother-in-Law: Angela Malcolm, Hareward Smith, William Dickenson, Richard Dickenson, Kelsey Brown, Theresa McIntosh and Shaun Malcolm;
Step Sister: Monica Butler and family;
Nephews and Nieces: Mark, Don, Stefano, Anthony Higgs; John Rigby; Tamisha Rigby; Claude Lightbourne; Omar Dickenson; Shantilla Higgs, Sharika Higgs-Patrick, Sharona Higgs-Baggett; Cindy, Stacey, Nicoyas, Gabriella and Keva Higgs; LaShonda and Shania Malcolm; and Princess Dickenson;
Grand Nephews and Nieces: Sharlize and Tyler Patrick; Leona, Donovan, Andrew, Rhianna, Gabriella and Darryl Higgs;
Two Uncles: Ellisely Campbell and Thomas Johnson of Freeport; One Aunt: Olive Dorsett of Texas; Two Grand Aunts: Heneritta Capron-Frith and Olive Rolle of Freeport;
Cousins: Heneritta Delancy, Gregory and (Mildred) Mullings, Heneritta Mullings, Brenda West, Bertha Belle, Paula Belle, Michael Belle, Rita Stubbs, Everette Russell, Gregory McIntosh, Dario and Tony Campbell, Lucille Pinder, Sharon Campbell, Crisie Campbell, Dale Colebrooke, Doreen and Samantha Campbell.
Family and Friends: Travis, Dorothy Williams and family, Elizabeth Dean and family, Bishop Simeon and Minister Linda Hall, Pastor Stephen Wells and family, Pastor Trajean Jadorette and the New Covenant Baptist Church family, Mildred Hanna and family, Minister Debra Strachan and family, Antoinette Fraser and family, Rev. Randford Patterson and the family of Cousin McPhee Cathedral, Rev. Sheila Forbes and family, Pastor Stanley Duncombe and family.
Friends may pay their last respects at Demeritte's Funeral Home, Market Street, from 10-6:00 p.m. on Friday & on Saturday at the church from 9:00 a.m. until service time.