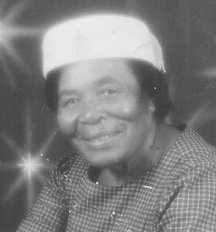 Gwendolyn Mabel Williams
unknown - unknown
Funeral service for
Gwendolyn Mabel Williams, 90 yrs.,
a resident of United Estates, San Salvador, will be held at Hillview Seventh-day Adventist church, Tonique Williams Darling Highway, on Sunday 30th March, 2014 at 2:00 p.m.  Officiating will be Pastor Jeremiah Duncombe, assisted by other Ministers of the Gospel. Interment followsin Woodlawn Gardens, Soldier Road.
She is survived by her Daughter:  Iva Reckley Musgrove
Grandchildren:  Desiree & Sharon Brown, Petty Officer Roy Brown Jr. of the Royal Bahamas Defence Force (Jacqueline), Able Seaman Ricardo Brown of the Royal Bahamas Defence Force (Cynthia), Dwight Brown (Indira), Royann Edgecombe (Andrew), Dwayne Collie, Jessica Nixon (Kevin), Romell Smith(Donita)
Great -grandchildren:  Kidan & Kenreah Brown, Dwayniqua Collie, Andria, Anastacia, Andreka Andrew Edgecombe  Jr., Duran Johnson, Dajonae Nixon, Shaquan& Romeka Smith
Brothers and their Wives:  Rolanse, Earlin (Clarabelle), Bertram, Wendell (Judy)
George, Albert Williams
Sisters: Elisa, Miriam, Brenda Williams, Lucimae Belle, Lillis Wood, Jackie Carroll,
Nephews: Vernon Williams, Perino Johnson, Garnet Ellis, Pastor Terrance G. Morrison, Richard Varence, Wellington Pratt, Stanmit Butler
Nieces:  Floretta Williams, Shirley Washington, Dorothy Cleare, Genevieve Smith, Dale Parrish, Joan  & Sheryl  Varence, Deidre Wood, Delora Moncur, Majorie Davis, Francina Clarke, Glendina Johnson, Mathred Musgrove, Barbara & Coramae Lightfoot, Dr. Marsha Williams Bethel, Caroline Beneby, Tanique Johnson
Special Friends and Family:
The Honorable Philip Davis & Family,  Dr. Don Gerace, lecturers, staff & students of Gerace Research Center, Idell Jones & Family, Hazel & Leanna Edgecombe  & Family, Catherine Storr & Family, Bernard Storr & Family, Deborah Taylor & Family, Michelle Williams & Family, The Nairn & Benson Families, Dr. Andy Thutwe, Dr. Bongi Gaitor, Nurse Sylvia Cooper and the Nursing staff at the Community Clinic, The Jones Family, The Williams Family,  Elder Bernard & Family, The Davis Family, Trevor Nairn, Majorie Forbes, Kenny Johnson, Regan Grant, Pastors Mavis Major & Family, Leo Jones and Family, Ada Forbes & Family, Gary Hanna & Family, Jonathan Knowles & Family, Nathaniel Walker & Family, Ivy Butler & Family, Ulric Butler & Family, Roy Fernander & Family, Father Rodney Burrows & Family, Drs. Wendell & Althea McMillan & Family, Dr. Leonard Johnson & Family,  Pastor Paul Scavella & Family, Pastor Peter Joseph& Family, Pastor Jermiah Duncombe & Family, Pastor Anastacia Bansi & Family, Elder Ian Greene & Family, Pastor Danny Clarke & Family, Pastor Larry Green, officers & members of the Cockburn Town Seventh-day Adventist Church  Loreen Miller, Alton Poitier, Verna Deveaux & Family, Rowena Smith & Family, Mella Rolle & Family, James Sands & Family, Mary Morris & Family, Agnes Hepburn & Family, Vernon Brown & Family, Sybil Hanna & Family, Amos Taylor & Family,Princess Bethel, Rosenette Varence & family, The community of the South Bahamas Conference of Seventh-day Adventist and other family and friends to numerous to mention.
Friends may pay their last respects at Demeritte's funeral Home, Market Street, from 9-6:00 p.m. ojn Saturday & on sunday from 10-12:00 noon & at the church from 1:00 p.m.