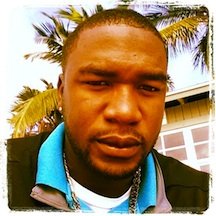 RIMARDO "Richie" ROLLE
unknown - unknown
Funeral Service for RIMARDO ROLLE affectionately called "Richie" age 27 years of #17 C Coral Lakes, Nassau, New Providence and formerly of Freeport, Grand Bahama will be held on Sunday, March 30, 2014 at 12:00 noon at Good News Seventh-day Adventist Church; Carmichael Road, Nassau, New Providence . Officiating will be Pastor Lynden Williams and Pastor Kwadwo O. Boateng. Cremation will follow.
His memories will linger in the hearts of his Mother: Deborah Liberal; Father: Ricardo Rolle; Step-Mother: Sarah Rolle; Brothers: Nicholas Rolle and Carrington Smith; Sister: Sydney Rolle; Grandparents: Luc Liberal, Carl Riley, Jacqueline Smith and Chloe Mather; Uncles: Luc, Graham and White Liberal, Jerry Gousse, Robinson Jusme, Andrew, Carlton, Cyril Dean, Dirk, Gary, Ian, Meshack Mather, Ricardo, Sean, Terrance and Vonie and John Fox; Aunts: Yolene and Kathy Liberal, Donna Gousse Sherry Weldon, Patrice Jusme, Andrea, Carolyn Mather, Cheryl Mather, Debbie, Jetlyn and Katherine; Grand Uncles: Barry, Glen, John, Leslie, Lloyd, Obediah Smith, Rev. Bursel and Wilmore Smith; Grand Aunts: Annie Mae Fox, Brenda, Edith Feast, Judy, Marilyn, Proline Smith and Wilamae; Cousins including: Stanley Dubois, Parquito Liberal, Devon, Jonathan and Bradley Hearne, Eddie Weldon, Jr, and Justin Weldon, Amir Louis, Kiam and Kimani Caughman Crystal Liberal, Carvan, Jaden, Ciara, Alex, Andrew, Danorra, and Daneye Liberal, Tiffany Fox and family, Stacy Clark, Darren Fox and family, Sharon Cunningham, Roosevelt Butler, Lawrence Fox, Elenor Cartwright, Darrinay Fox, Kendal Saunders and family; Godfather: Troy Newbold; Godmother: Reese Sands; Godchildren: Madison Campbell, Kylea London Greene, Claudia "London" Burrows, Claudia "Treasure" Burrows and Claudius "Platinum" Burrows; Godsisters: Davanna Mackey, Misty Fritzgerald Reid, Piaget Clarke and Marquinique Taylor; Godbrothers: Tavis Adderley, Brian Robinson, Nathaniel Miller, Raven'O Forbes, Kristoff Wilkinson, Demetrius Sands and Miles McGregor; Adopted Family: Dolly Dawkins & family, Wilton & Shirley Martin, Claudius Burrows and Rosamunde Carey & family; Special Friends: Chante Wright, Shelvado Bethel, Tyler Francis, Rowland Stuart, Carvel Bain, Adarrio Campbell, Adina Lecky, Claudius Burrows, Nesly Lucien, Andretti Bain, George Daxon, Ramon Wildgoose, Derek Carey, JaRonn Davis, Harborside Resort @ Atlantis Family, Grand Bahama Catholic High School, Sunland Baptist Academy, Neymour Hawks Track Club, Star Trackers Performance Club Ocean Motion Crew, Bert Duncanson, Decarlo Porter, Jerell Forbes, Tia Thompson, Gary Augustine, Michael Mathieu, Tyrone Sawyer, Jr., Kwesi Appiah, Lorie Matters, Nazeem Stuart, Buffy Burrows, Jericka Martin, Cecilee Burrows, Kendisha Smith, Brittisha Armbrister, Tabitha Armbrister, Leronne Smith, Chrisnell Colebrooke, Dianna Williams, DeAngelo McCoy Bain, Oscar Green and Jamal Green; Other relatives and Friends including: The children of his late Aunt Guilene Liberal, Geralda Augustin, Fabiola Louis Jean, Guy Eddy Patrice, Michel Patrice, Pierre Juste. and many others too numerous to list, but who are all just as affected by Rimardo's transition.
Viewing will be held in the "Irenic Suite" at Restview Memorial Mortuary and Crematorium Limited, Robinson and Solider Roads, Nassau, New Providence on Friday from 10:00 a.m. to 6:00 p.m. and at the church on Sunday from 11:00 a.m. until service time.