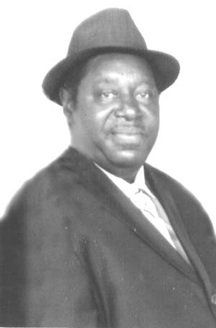 Arnold Patrick Rolle
unknown - unknown
Funeral Service For Arnold Patrick Rolle, 56 a resident of Matthew Street, Nassau Village will be held on Saturday October 25th, 2014 at 11:00 a.m. at Sure Word Bible Ministries, Lincoln Blvd. Officiating will be Bishop Lionel Rolle, assisted by Pastor Jamal Rolle. Interment will follow in the Woodlawn Gardens Cemetery, Soldier Road.
Left to honor and cherish his memories are his wife: Rochelle; daughter: Shanova; son-in-law: Geno Andrews; adopted father: Lionel Rolle; brothers; Bishop Lionel, Cedric and Livingston Rolle and Christopher Miller; sisters: Min. Sylvia Laing, Evang. Pearline Reckley, Theresa Saunders and Shirley Bowe; adopted children: Darville Rolle, Robert Lockhart, Tameko Johnson, Cortino Gibson, Cosman Major, Stacy Johnson, Rosalee Johnson and Kendarick Sands; grandchildren: Larrisa Ennis, Laurena Rolle and Jermaine Andrews; adopted grandchildren: Leonardo, Ricardo, Ryan, Tameko Jr., Darville Jr., and Omar Johnson, Andricka and Jasmine Carey; sisters-in-law: Sheena Miller, Norma Rolle, Hycinth Rolle, Mavis Leary, Elizabeth Hanna; brothers-in-law: Colon Reckley, Howard Bowe, Orville Langley, Ellison Wells, Alvin Wells, Denver Hanna and Mario Leary; nieces: Elder Paulamae Clarke, Shelia Wilson, Susan Laing, Deborah Ranger, Sherece Wallace, Coline and Ann Reckley, Patrice , Lisa , Shantell , Shereka and Stacy Bowe, Natasha Smith, Lianell , Christine, Cedricka, Leanda and Khadijah Rolle, Shanique Laing, Pandora Johnson, Ellisandea , Ellesa , Ezekia , Zerasa and Zekinda Wells, Marinique and Moesha Leary, Denaria , Denise and Denrica Hanna;; nephews: Oswald, Marvin and Fredrick Laing of Miami, Fl., Theodore Reckley, Cedric Jr., Jason, Guastavous, Lamon, Livingston Jr. and Jonathon Rolle, Lashawn, Howard and Michael Bowe, Braxton, Genaro and Christon Miller; god children: Jeremy Poitier, Reginald Chase Crystal and Cedric Forbes Jr.; a host of other relatives and friends including: Bishop Cannel and Elder Patrice Swain, Elder Denise Rose, Elder Pearly Mott, Prophet Jamal Rolle and Sure Word Bible Ministries family, Tony Roberts, Rudolph Miller, Princess Edwards, John Brown, Dave Marshall, the Min. of Works, the Dickerson, Roberts, Chase, Gibson, Saunders, Forbes, Sands and Goodman families, Roger Saunders and family, Jullian Saunders and family, Philip Saunders and family and the entire Nassau Village family.
Friends may pay their last respects at Gateway Memorial Funeral Chapel/Vaughn O. Jones Memorial Center, Mount Royal Ave. and Talbot St. on Friday October 24th, 2014 from 10 a.m. to 6 p.m. and at the church on Saturday from 10:00 a.m. until service time.