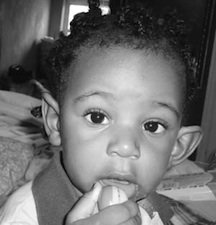 Bertram William
unknown - unknown
Funeral Service for the late Baby Bertram William age 11 months of Dignity Garden will be held on Friday October 24 2014 at Living Waters Ministers Warren Street, at 10:00 a.m. Officiating will be Apostle Raymond Wells assisted by other Ministers of the gospel. Cremation will follow.
He is survived his Parents: Bertram and Shyann Williams
Sisters: Bertreeka, Bertrenique and Bertrell Williams
Grand Mothers: Sheila Ferguson, Lillian Fox, adopted grandmother Patricia Williams
Grand Fathers: Bertram Williams Sr. and Kermith Rolle,Cedric Williams
Aunts: Barbara Williamson, Geniece and Pauline Ferguson, Valretia Saunders, Monique Francis, Bertria Grey, Melain Josey, and Patricia Williams.
Uncles: Leslie, Vincent, Ivan and Christopher Ferguson, Gardell Josey and Terrell Williams.
Grand Uncles: Valentino and Excel Josey, Dewitt and Clifford Bain
Grand Aunts: Ann, Raquel, and Syd Josey, Effie McIntosh, Loise Fox, Marsha Thompson and Zelda Rolle.
God Parents: Latoya Roberts, Edward and Lashanda Neymor, Donnavette Scavella, Shavante Ward, Dornell Butler, Tarvia Rolle, Vinshan Andrews, Kimberley Webb, James Webb, Godfrey Brice, Teneille Flowers, Latika Johnson, Dornell Johnson, Deneise Kemp and Coleen Moss.
Adopted sisters: Ashley Smith, Latrika Daxon , Tiffany Ferguson, Yokoi Major, Taniqua Peet , Jennie Maycock, Iesha Paul, Chavez Robinson and Jeniece Green.
Cousins: Deran, Devon, Dana, Daneisha, Denise, Gerard, Tabatha, Derio, Demetrio, Leann, Wavel, Demario, Ivanna, Ivan, Charmine, Antonio, Marika, Tiarra, Vanturnae, Mason, Gabrielle, Brandon, Brayden, Shelton, Tonique, Antenella, Adell and Adam.
A host of relatives and friends including: Apostle Raymond and Olivia Wells, The Living Waters Kingdom Ministries, Pastor Geraldine Martin and Family, Pastor Ryan Bethel, Minister Rodgers and Family, The Saunders Family, The Fox Family, The Josey Family, The Bain Family, Daniel and Erma Johnson and family, Althea Hepburn and Family, The Government High School Family, The Bahamas Hotel Catering and Allied Workers Union Family, Belinda Wilson and The Bahamas Union of Teachers, Dr Delerese Taylor and The Bahamian Cosmetologist and Barbering Association, Mrs. Hellen Hall and Family, Trevor Seifort, Marsha Smith, Marco Smith, Vanhessyn Hepburn, Dodridge, James Webb, Kimberley Neymor and Family, Robert and Disa Delancy and Family, Winifred Stubbs and Family, Elizabeth Collie and Family, The Pierre Family, The Kemp Road Union Ministries Family, The Revelation Church Family, , Atlantis Pastry Shop Family.
Miami Children Hospital, Doctors and nurses, Oncology doctors Gatib, Godder, Deaglo, Levy, Pfkeru and Abdella, Neurosugery Dr Batia and plastic surgery Dr Perlin. 3 North Nurses especially Lessette, Caren, Sebastian, Safi, Danielle, Vanessa, Crystal, Jill, Natalie, PICU nurses: Nicole, Daniel, Charelene, Harry, William, Michelle, Gilda, Wilbert, Myrie and Michelle Alle. Anna from labs. The Princess Margaret Hospital, Childrens Ward nurses especially: Janet King, Keva Ambrister, Nurse Demeritte, Knowles, Maria Johnson and Shyann Johnson.
Relatives and friends may pay their last respect at Evergreen Mortuary located on Collins Ave & 5th Terrace on Thursday from 10: 00 a.m. – 6:00p.m. and again at the church on Friday from 9:00a.m. until service time.