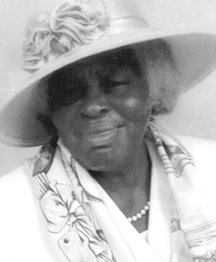 Hazel "Mother" Meriel Rolle
unknown - unknown
Funeral service for the late Hazel Meriel Rolle affectionately called "Mother" age 82 of Austrailer Drive and formerly of Victoria Point, Mangrove Cay, Andros will be held on Saturday, October 25th 2014 at 11:00am at Prevailing Church of God in Christ. Officiating will be Bishop Roy Burrows assisted by Rev. Charles Culmer. Interment will follow at Woodlawn Gardens Cemetery, Soldier Road.
Loving memories will linger in the hearts of her children: Margette  Bastain-Deveaux ( Fletcher Deveaux), Maralyn Role, Carolyn Smith, Gregory Rolle, Fluridamae Adderley, Henry Adderley, Venus Johnson, Evangelist Meloney Role, Claudette Oliver, Jerome Rolle (Kimberley Rolle), Samantha Stuart, Marvin Lewis; Sister: Zelmer Rolle Brother: Kenneth Role of Orlando Florida. Nieces: Christina and Fredricka Wilson, Miriam, Estelle, Retta, Geraldine, Rosemary, Elizabeth, Patricia, Marsha, Dorothy, Charlene, Maxine, Carol, and Sylvia; Nephews: Rev. Dr. Charles, Michael, Lorenzo Culmer, Robin Johnson, Rasha McDonald, Simon, Sam and David Rolle; Grand-Children: Ken, Vandyke, Clint, Stacy, Nadia, Tanya, Roquel, Zhakuaryo, Hasheen, Damian, Miea, Yure, Raqual, Darvin, Jackson, Shenika, Clifton, Clinton, Kia, Elvardo, Marco, Troy, Ladedria, Deandrea, Jamal, Novella, Amanda, Noel, Ramond, Jason, Rodney, Lavette, Deja and Antonie; Great-Grand: Kendra, Zanuaughn, Bre'anne, Omari, Sakhah, Shandia, Tari, Shantashia, Shatori, Sydney, Jamie, Netertari, Khonsu, Kejwone, Ashantique, Lanque, Keneisha, Tortantae, Anthony, Alicia, Demeko, Jamar, Elvardo Jr., Austin, Kambria, Melise, Macaee, Linsey, Trinity, Destiny, Kendricka, Elkeno, Ronald Jr., Latrell, Carlyn, Soneta, Ramona, Faith. Great, Great Grand: Makayla, Makari and Leila, Makayla, Makai; Adopted Children: Shirley, Yvette Butler, LaRoda Collie, Kirk Moxey, Lionel Bain; Other Friends and Friends including: Deaconess Niola Nesbit, Deloris Neymoure and family, Evelyn Stuart and Family, Sylvia Neely and family, Rodger and Leonard Steel of Orlando Florida, Bishop George and Claudette Burns and family, brother Haven Curry and family, Pastor Mcknight of Orlando Florida, Pastor Ross Davis and family, Pastor Lenard Davis and Family, Pastor Lanora Sands and family, Evangelist Ann Coakley and family, Lerline Brown and a host of other relatives and friends too numerous to mention.
Viewing will be held in the Serenity Suite at Restview Memorial Mortuary & Crematorium Ltd, Robinson and Soldier Roads on Friday October 24th from 10:00am to 6:00pm, and at the church on Saturday from 9:30 am until service time.