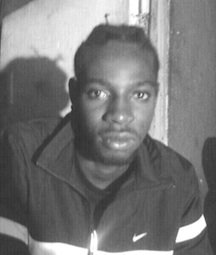 Jermaine "Eric" Rashad Eric Minnis
unknown - unknown
Funeral Service for the late Jermaine Rashad Eric Minnis affectionately called "Eric" age 22 years of Nassau Village will be held on Friday October 24th, 2014 at 1:00pm at New Covenant Baptist Church, East West Highway. Officiating will be Rev. Trajean Jadorette, Pastor Stephen Wells and Pastor Samuel McIntosh. Interment will follow at Lakeview Memorial Gardens, John F. Kennedy & Gladstone Roads.
Left to cherish his loving memories are his Son: Eric Jermaine Jayvon Minnis, Parents: Mrs. Latoya Laing and Jermaine Minnis; Step Father: Doneak Laing; Step Mother: Lorraine Minnis; Brother: Lavaunte Minnis; Sisters: Doneakqua & Debonique Laing, Ayliah Duncombe, Jamia, Janae and Jaylin Minnis, Grandparents: Mr. Tyrone & Mrs. Dorothy Miller; Uncles: Jeremy Bonaby, Gregory Lightbourne, Fredrick Davis, Kendal Nairn, Kevin McGregor, Kirk, Michael, Brian, Kamal Miller, Mario Bain; Aunts: Marktenya Lightbourne, Natasha Black, Lynette Lightbourne, Kendra Clarke, Janice McGregor, Jenell Nairn, Vernique and Shanique Nairn, Lakeisha Stubbs and Shaniqua Lightbourne; Grand aunts: Gwendolyn Adderley, Erma Bain, Gia Minns, Rose McGillivary, Roselyn Marshall & family, Alice Stuart & family, Dorothyann McCallan & family, Emily and Denise Newbold & family, Patsy Dolce & family, Gina Miller & family, Mavis Johnson & family, Yvonne Neilly & family, Wendy, Dianne, Cheryl, Marie and Judy Lightbourne & family; Grand uncles: Tyrone Minns, Cecil Austin, Fredrick Bain, David Williams, John McGillivary, Garnet, Reynold, Leonard, Cecil, Ronald, Nelson, Freddie and Edward Newbold & family, Kevin Lightbourne & Family; Cousins: Romarhi, Dwainia ,Eleanor, Triska, Geneva, Michelle, David Jr., Erica, Melinda, Tanishka, Julia, Jamie, Dejan, Domonic, Donovan, Kendrea, Gerri, Markell, Justin, Davardo, Daneisha, Kaylin, Kendrick, Syndi, Kenya, Farah, Kenya, Kevin Jr., Zyaire, Jireh, Jade, Lorenzo Jr., Liberty, Victoria, Dwania, Stephen Jr., Ashanti, Demetrius, Demetria, Indirah, Yolanda, Romerhi, Hayden, Regena, Kendrick Scecillia, Diamond; Special Friend: Tyiesha Rolle; Godparents: Andrew Pinder, Joey Humes & Markell Munnings; Other relatives and friends: Michelle Newbold & Family, Ethlyn Blake & Family, Tyiesha Rolle, Kingdom Ambassador Ministry, New Covenant Church Family, Kerzner International (Atlantis) and The One & Only Ocean Club Security Departments, The Laing Family, Harbourside Resort Family, Atlantis Engineering Department, B.R.N, The Montel Heights Community, Tyrone Duncombe & family, Sherry Butler & Family, Bernish Petit-frere & Family, Bennie Johnson & Family, Tanaz Stuart, Krystal Davis, Jonathan Rolle & Family, Jim Fernander & Family, Gambier Primary School Family, Lil Shervin, Pumpkin and other relatives and friend too numerous to mention.
Viewing will be held in the Irenic Suite at Restview Memorial Mortuary and Crematorium Ltd., Robinson and Soldier Roads on Thursday (TODAY) October 23rd from 10:00am to 6:00pm and at the church on Friday from 11:30am until service time.