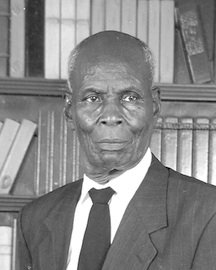 Joseph "Pappy" Lewis Butler
unknown - unknown
Funeral Service for the Late Joseph Lewis "Pappy" Butler, age 88 years of # #43 Jumbey Drive, Golden Gates I and formerly of Whymss Bight, Eleuthera, will be held on Friday October 24th, 2014, 12:00 noon at Bethel Baptist Church, Meeting Street. Rev. Dr. Timothy Stewart assisted by Rev Frederick Kelly will officiate. Interment will follow in Woodlawn Memorial Gardens, Soldier Road.
Precious memories will forever linger in the heart of his one son: Hellarian Butler Sr (Cherry); four daughters: Lavinia Kelly, LaShan Butler, Deneria Butler and Miriam Forbes; Grandchildren: Lenny and Margaret Cox, Capt. Randy Butler (Larona), Demetrius, Horatio (Dornell), Marco (Tina), Prophetess Shanar Butler Petit-Frere (Bernish), Shantell Butler-Lockhart, Mario (Rochelle), Hellarian Jr. (Ashley), Absalom (Kimberley), Olivia, Felicity, Hellarie, Joseph Hellarian, TeWana Butler-Kemp (Dion), Glenelle, Zia Wallace (Carlson), Gia Thompson, William Scantlebury (Nina); Great Grandchildren: A'Nyce Munroe, Kyle Bullard, Rodale Kelly, Syrai, Demetrius Jr, Demetrio, Demetria, Chanton, Ashante, Marco Jr, Martino, Hailey, Darcy, Randy Jr, Joshua and Hannah Butler, Bernisha, Bernish Jr, Joshua and A'Marie Petit-Frere, Simfone Lockhart, DionTe Kemp, Chrystal, Gregory, AJ and Shonnie Wilson, Gabrielle Campbell, Carlyse and Carlson Wallace, Yacovien Thompson and Antonio Scantlebury; Sister In Law: Doris Gomez; Neices: Corvette Lundy-Hepburn, Harriet Gardner (David), Daria Butler, Babara and Janice Davis, Sally Ann Ferguson, Joycelyn Simms, Roselyn Lightbourne, Sonja Rolle, Susanne Knowles, Pauline Curry, Deborah Darville, Marilyn Stubbs (Phillip), Chantell Sands (Phillip), Andrea Forbes-Mackey (Randy), Daniele Gibson, Agnes Sweeting, Kathleen Culmer, Madeline Gibson; Nephews: Matthew Curry, Rev. Dr. Timothy Stewart, Perry Forbes (Sherry), Irvin (Dorn), Eric (Ernestine), Asa, Reuben, Stephen and Elgin Gibson; Other relatives and friends of notable mention: Antionette Scantlebury, Omar Ashe, Terrel Roker & Family, The Munnings, Brown, Thurston, Higgs and Major Families of Golden Gates No.1, Martin Munroe & Family, Kirk Bullard & Family, The Whymess Bight Association and its associated Community, the South Eleuthera communities of Green Castle and Bannerman Town, The Hon. Shane Gibson and The Progressive Liberal Party – Golden Gates Constituency, Dr. Dean Tseretopoulos and The Management & Staff of Lyford Cay Hospital, Janet Lundy & Family, Natalie Brown & Family; Other relatives, family and friends too numerous to mention.
Friends may pay their last respects at the Sir Lynden Pindling Center (PLP) Headquarters, Farrington Road, on Thursday from 10:00 a.m. to 4:00 p.m. and on Friday at the church from 11:00 a.m. until service time.