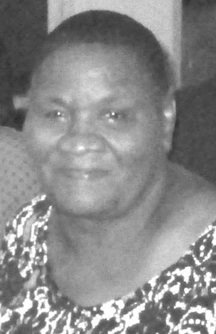 Mable "Mimi" Greenslade
unknown - unknown
Funeral service for Mable "Mimi" Greenslade, age 66 of Wellington Street, will be held on Saturday, October 25th 2014 at 10:00 a.m. at. Transfiguration Baptist Church, Blue Hill Road and Vesey Street. Officiating will be Rev. Stephan Thompson assisted by: Deacon Colin Johnson. Interment will follow in The Western Cemetery, Nassau Street.
Left to cherish her memories are her DEVOTED CHILDREN : Tamara Seymour and Tiffany Strachan; SIBLINGS: Oswald and Basil Greenslade; SISTER-IN-LAWS Florence and Augusta Greenslade; GRANDCHILDREN: Shaquel Adderley and Mario Forbes; NIECES & NEPHEWS: Randy (Jackie) Hanna, Karen (Jack)Andrews, Atina Colebrooke, Don Miller, Sean Ward, Glendina Brown, Tamar, Osten, Osha , Pheron, Marco, Melinda, Keino, Yvette , Jason, Leonard, Fabian, Brittany, Marquese Greenslade ,Marvia (Lionel) Rolle, Raquel, Trevor, & Vaughn Armbrister , Darcia Cox and a host of other relatives and friends including: Peggy Lundy & Family, Pamela Williams & Family, Vernita Johnson, Eva Greenslade & Family, Kevin (Prenell) Greenslade, Constance Ferguson & Family, Orman Mcphee, Sharon McPhee & Family, Carla Coakley & Family, Marlene Poitier , Nadine Mitchell & family, Sharon Roker & family Karen McPhee, Rev Cyril Sands & FamilySheena Poitier, , Micheal Hepburn & Family, Carnie Saunders & Family , Dexter Armbrister & Family, Broyde McDonald, Lilimae Beneby, Edwin Culmer & family, Luna, Nina, Donna & Monica Culmer, Nicolas Braynen, Mario Forbes Sr. Gloria Thompson & family, Sherique Fowler & family, Kaynetta Cleare & Family, Anisa Cooper & Family, Allison Johnson & family, Ruby Hepburn & Family, Alfreda Moss, Charles Rolle, Sherman Johnson, Natalie Andrews & Family, Porta Campbell, Lehandro Russell, Lilly ,The Woods family, Simmons & Family,Rose Sears& family, Edith Feaste & family, Jenny Jackson & family Drucilla Rodriquez , Yvonne Rolle & Family , Yvonne Nesbitt & Family, Indira Russell & family, Elain Sands & Family, Celestina Ellis & Family, Fredricka Bowleg & family, Prudence Sargent & family, Sany and Rose Ellis & family, Sandra & Antoinette Thompson, Cynthia Sweeting & family, Judy Brown & family, Antonio Saunders, Shonell Dorsett &family, Florence Rolle & family, Juliette Barnwell , Kentino, Latoya (Richard) Roberts, Kenneth Nuwankoo, Shenika, Karell,& Kinto Smith, , Dorothy , Racquel Marshall, Jan & Calvert Bostwick, Chrissy Cunningham & family, Iva Burns & Family, Patsy George Smith & Family, Val Darling & Family Shirley Braynen , Carl Jr, & Paul Braynen, Carla Turnquest, Tracey Ferguson & Family, Wally Goodridge, Maria, Lillian, Nadine, , , Deloris, Derek Jr & Devon Thompson , Dorothy Sands , Babara Bowe ,Terry Russell & family Harry Sands & Family, Godfrey Bannister , Nelson Cooper Nellie Braynen & Family, Keishanae Wallace & Family, Amy Winder & Family , Denise Gray, The Woods Family, Judymae Hanna & Family, Stacey & Brian Baker, Transfiguration Baptist Church Family, The Bain & Grants Town community, The Salvation Army Home Leagues and many others too numerous to mention.
The body will repose in the Blessed Redeemer Chapel at Ferguson's Funeral Directors, 7th Terrace Collins Avenue, on Friday from 10:00a.m. - 5: 00 p.m. and at the church on Saturday from 9:00 a.m. until service time.